Eye Shadow -L'Oreal - Color of Hope- Peaceful Spirit


saikick 11/26/2008 12:43:00 AM
I love L'Oreals limited quads! Earlier this year I picked up the Celeb Status quad and it is fantastic! I almost forgot about the quad until I walked by the makeup aisle in the drugstore, and saw this one. With Scarlett as a model,why WOULDN'T I go for this? (lol) The colour palette is green based, with pearly beige highlights. I love how sheer this goes on, so the colours don't go wacko on my face. The darkest shade of moss green works nicely as a liner, and I love how I can smudge the shadows to create a nice effect like they did with Scarlett. :D I have been told that Asian girls do well with green shadows, and I agree! The colour totally brings out the deep brown of my eyes, and I love how it shimmers! I use Anna Sui's Glitter Jar in 001 Silver and it leaves a nice shimmery base...Then I stacked this quad on top, and man, I was in love with my eyes! It's sooo sparkly without overdoing it! It's not a daily use quad (unless I just decide to use the highlighters) but I will be using this for sure! I'm sad I missed the plum one for fall, which I think would've looked gorgeous with brown eyes. :(
Was this review helpful to you? Yes No
Mascara -Shiseido - Majolica Majorca Lash Enamel Glamour NEO mascara


saikick 11/7/2008 10:32:00 PM
My HG mascara. Hands down. I came across this when a fellow reviewer and I were discussing about mascaras and I was interested in it because I was NEVER able to find a mascara that suited my oily eyelids. All mascaras I have ever tried, except for Rose of Versailles had smudged, smeared, you know the deal... I went back to Japan this summer again and wanted to stock up on makeup and remembered this mascara. I bought it, opened it up and was intrigued by the avant-garde design...What's with this comb-on-a-stick instead of...a brush? o_O Nonetheless, I tried it on... and lo behold, I had the most BEAUTIFUL flutterly expanded lashes that I had wanted to achieve!! The Rose of Versailles mascara which was my old HG had everything I needed, but the only issue with that one was that the bottle clumped way too fast...I had to use the mascara everyday or else it would clump within a month and it would no longer be able for use...I was quite upset since it did a damn good job, but since coming across this and using it for about 3 months now, I can admit that THIS is an awesome product. No smudges, no smears, STAYS ON MY EYELASHES until I take it off, and most of all, the bottle has no clumped on me at all. :) ...Now a tiny TINNNNNNNNNNNNNNNY con of this product... It's staying power is so amazing, that it's so freaking hard to take off! Point makeup remover, then my normal cleansing oil does the trick, but if you're in a rush to take off this mascara...man...good luck!
1 out of 1 people found this review helpful. Was this review helpful to you? Yes No
Masks -LUSH - Mask of Magnaminty


saikick 11/7/2008 10:24:00 PM
Probably the best mask I have ever used so far. My hormone level has been wacko in the past couple years and I've been dealing with acne-prone skin for a loooong time. I saw this review on cosme.net (my favourite Japanese website) and read the amazing reviews, I decided to give it a shot. It's been 2 weeks since I used it, and I can conclude that it is by far, one of the best masks ever! No wonder in Japan they have amazing skin...The mask itself looks like mint chocolate chip ice cream (yum!) and the texture of the mask is very thick and awesome. I keep mine in the fridge because everytime I take it out and look at it, I almost want to eat it! When the mask is put on your skin, it gives a little cooling, almost tingling sensation because of the mint. If people are sensitive to this, the mask MAY not be a good idea, but I have pretty sensitive skin and I was good with it. Infact, the cooling effect feels soooo nice! This will be an ideal mask during the summer! In the winter (as it's getting colder in Canada) the mask may be problamatic because...well...it's almost too refreshing!!! I put this in the fridge to cool it and after I use Fancl's Mild Cleansing Oil -> Face wash -> Mask of Magnaminty -> toner -> moisturizer, my face feels sooo smooth. Usually after a facemask, my skin tends to feel tense and it actually hurts, but with this mask, I feel refreshed and my skin doesn't tug at all! I follow my fellow Japanese friends and follow a specific regime with this mask: 1) slather on face 2) wait 10-15 minutes 3) with a little water, gently MASSAGE the mask so the azuki beans stimulate your skin 4) massage the mask away, and rinse 5) repeat with toner -> moisturizer Honestly, I can guarentee your skin will glow after a while. I'm hooked on this, and will continue to use it even in the winter!
7 out of 7 people found this review helpful. Was this review helpful to you? Yes No
Eye Shadow -MAC - Shroom


saikick 11/7/2008 8:13:00 PM
Great packaging. Good colour? No way. This shade did NOTHING for my eye! It didn't even show up! I was so disappointed after seeing the amazing reviews on here. Sorry to drop the rate ladies, but this shadow really did nothing. No colour, not even a SHIMMER. How can eyeshadow just blend to my skintone like this!? It's never EVER happened to me before! I almost want to think this was a defective item, but nonetheless, never going to repurchase. :/
1 out of 1 people found this review helpful. Was this review helpful to you? Yes No
Palettes -Bobbi Brown - Night Sky Long Wear Eye Palette


saikick 11/3/2008 8:23:00 PM
Fantastic palette! My girlfriend and I were in class today and I noticed her eyes right away. She had this beautiful blue 'shadow' or 'liner' on her eyelids that totally made her dark chocolate brown eyes pop! I was curious and then she proceeded to tell me about this palette. I was so intrigued, that I rushed to Holt Renfrew right after class. I got there, and it's the same thing: 2 to 3 SA's chatting about totally not caring for the clients. Meh, I'm used to the Bobbi Brown counter: horrible service. Anyways, I ask one of them about the palette and she brings me to two beautiful packages. One with a gold shimmer (more 'me') and the one with the shimmering blue (not so 'me'). After testing out both, the gold one did appeal to me more, but I decided to go with this one since I don't own a lot of cool toned shadows. I already own about 5 colours of her gel liner, so getting this in black ink was just another bonus. I applied the 3 new colours as soon as I got home (2 creme shadows and 1 new gel liner colour), and man oh man, am I happy to have gotten this one!! The palette DOES look kinda scary for someone who is not used to wearing cool coloured makeup, like myself. I had this feeling that everything would be too dark but the first application of the creme shadows gave a very VERY nice wash of colour which was totally easy to blend. I tried the Rockstar creme shadow first, then applied the Ocean Storm on top. Oooooh sooo pretty! My girlfriend wore hers as a liner, and it looked hot! I'm glad this palette is very versatile! I know the black ink gel liner is good. That's a given: I've already been through 2 of these! (Wonderful product for people with oily eyelids like myself) Thunder Storm is a goregous dark browny-grey with very slight silver shimmer...It's definitely different, and I love it. It matches so well on my skin with Ocean Storm! This isn't just for the dramatic look that people are looking for. I can say that first-handedly because it didn't look dramatic to me at all. It's only if you over apply, that it'll be like a runway show. Ladies, give this palette a shot! The one thing if I had to give a negative statement is, yes, the packaging. But if you take the time to seal the compartment, there is no problem at all. Just sometimes, you have to push down on both sides to ensure it's closed tightly. It's totally worth the bucks! :) I'm glad I got it!
4 out of 4 people found this review helpful. Was this review helpful to you? Yes No
Concealers -BeneFit Cosmetics - Powderflage


saikick 10/29/2008 3:36:00 PM
To be completely honest, I don't even think I need to think twice about repurchasing this concealer because it will NEVER run out!!! I also need to admit that I totally bought this on a whim because of it's cute packaging. It comes in a small camo tin and includes the 'flager' brush. Many say that the brush is useless but I think it works just fine. I first use time balm concealer under my eyes and my problem areas and dust this powder on with the brush... It sets my concealer! I had a problem with lines forming but since using this I solved the problem! I use this powder as a highlighted on my nosebridge and browbone as well. Fantastic powder!! I only wish the packiging was smarter...
Was this review helpful to you? Yes No
Eyeliner -Shiseido - Majolica Majorca Automatic Eye Liner


saikick 5/19/2008 7:37:00 PM
I've been a faithful user of MM since I was in highschool, and this liner was deifnitely one of my favourite products from their line. I had purchased this one in the golden yellow tone for a nice highliting effect on my eyes. The colour was shimmery, but when applied to my skin tone, it had a nice effect, and wasn't super glam. The idea of a click-and-apply pen type eyeliner also caught my eye, and I must say the dispensing was rather easy too. The only problem with MM is that they don't last as long as other cosmetics do, but it's not like I'm paying a lot for the product anyways so I nevere really comlpained about it. I am pretty much over the MM phase, but I can definitely recommend this brand to anybody. It's pretty cheap, and the colours are pretty vibrant for any skin tone. Very user friendly!
Was this review helpful to you? Yes No
Skincare - Body -Unlisted Brand - ORBIS - Clear Body Lotion (Oil cut)


saikick 5/19/2008 7:15:00 PM
I am not surprised that this brand isn't listed on here in MUA, but I guess I can be the first one to let people know what a wonderful product this is for acne-prone individuals. I came across this body lotion type spray when my friend came back from Japan. At the time, I had been complaining to her about how bad my acne had been, especially around my chest and on my back!(Yeah, I know it sounds pretty gross...) I had herad of Orbis before and their skincare line and how it had helped many people with acne-prone skin. But I never got around to it because it's not sold here in Canada. So she brought me back the body lotion and it was a miracle product for me. The spray bottle itself mists out a fine amount of product, whether you spray directly, or flip it upside down to get the targeted area, such as your back. I was really happy about this, because spray type bottles tend to leak when you flip it upside down, or doesn't dispense properly, but this little fella had no problems. The after feel is great too. It's not really greasy and the smell! Oh my goodness, the smell is fantastic! It smells fresh, and almost minty like, and it makes your skin feel soo smooth. I've used this for about a month, and the troubling acne had pretty much disappeared. Everytime I feel like pimples are gonna pop up, I spray this and I'll be fine. It is truly an amazing product, and it's about 215mL so you get a lot out of it. I still have a bit left, but I am most positive that I'll repurchase this when I go back to Japan.
1 out of 1 people found this review helpful. Was this review helpful to you? Yes No
Blush -Shiseido - Majolica Majorca Powder Blush


saikick 5/19/2008 7:04:00 PM
I have this in OR322, pretty much IMO, an upgraded version for me from the Flesh & Blood. The texture of this blush is sooo smooth and well pigmented for a drugstore brand. The application is really easy, even for clumsy people like me. I take a big poufy blush brush, circle it around in the colour, and gently fluff it onto my cheeks and it gives me that fresh, youthful, flushed glow. I love orange because it can be used for casual, and formal wear. The casing is cute too, and it's pretty durable since I've dropped it many times onto hard floorings and it never cracked. (see how clumsy I am?) The only gripe is that the lasting power isn't long but it's a dugstore brand so I'm not going to complain. Overall, a good product and I may pick up more colours when I head back.
Was this review helpful to you? Yes No
Blush -Shiseido - Majolica Majorca Flesh and Blood Blush in Tube


saikick 5/19/2008 6:44:00 PM
I have this in OR300. It may just be me, but I had a really hard time applying this blush. Because it is a cream base, you need to be really careful in dispensing the right amount out or else you look like a clown! :( The quality of the blush for a drugstore brand is quite amazing though. The texture of it is soooo smooth, and the colour is quite bright. Once you apply it to your cheeks, I think it's key to blend it in as fast as you can for that flushed look. I've seen many people wear this in Japan and they look absolutely fabulous with it on, but I never got the hang of using this and will probably end up sticking to powder blushes only. I never had a trouble with Majomajo's Cheek Customize which is a powder base blush. This is up for swap if anybody wants to try out a Japanese cream blush. :D
Was this review helpful to you? Yes No
Sunscreen -Sofina - Perfect UV White Protect SPF 50+


saikick 5/18/2008 2:45:00 AM
I LOVE this sunscreen! I have never used any sunscreen that goes on so smoothly, without that heavy, greasy feeling. Honestly, this goes on and it just disappears onto your skin! It almost feels like I have nothing on, which is an ammmmazing feeling for a sun screen. SPF 50+ is always a plus for me since I tan really fast, and I enjoy the texture of this a lot. The only gripe is the price and it's rather high for such a small bottle. (I have the 20mL one) 4 lippies, and I will definitely repeat. :D
Was this review helpful to you? Yes No
Eye Shadow -Givenchy - Prismissime Eyes #56 Purple Show


saikick 5/14/2008 10:58:00 AM
I have come across the ultimate eyeshadow combination: Givenchy's Prismissime Eyes. I scored this Japan only LE version of the Prismissime Eyes, and I must say, am VERY impressed with the quality of the shadow. When I first recieved this product, I was so disappointed with the size of the product I got! The eyeshadow compact can literally fit in the palm of your hand, and when you open it, inside, contains 9 mini shadows. But when I opened to see the colours, I had mixed emotions. Obviously a little upset at the size, but was in awe with the beautiful colour that was stored inside. It comes with 3 pearl colours (golden brown, navy, silver) 3 matte colours (ivory, black, chocolate brown) and 3 bright accent colours (rosy pink, purple, turquoise blue) The combiantion is fantastic, and must I say, the quality of the shadow is amazing. I did pay a high price for this, but am not regretting it. The packaging is really nicely done as well. When you open the compact, and open the shadow, inside are 3 applicators: 2 chips, and 1 fine tip. I've always loved Givenchy, but this is the first time I have ever bought their eyeshadow line. I want to get my hands on the rest of the Prismissime Eyes. I have also included a picture to show you what the compact looks like.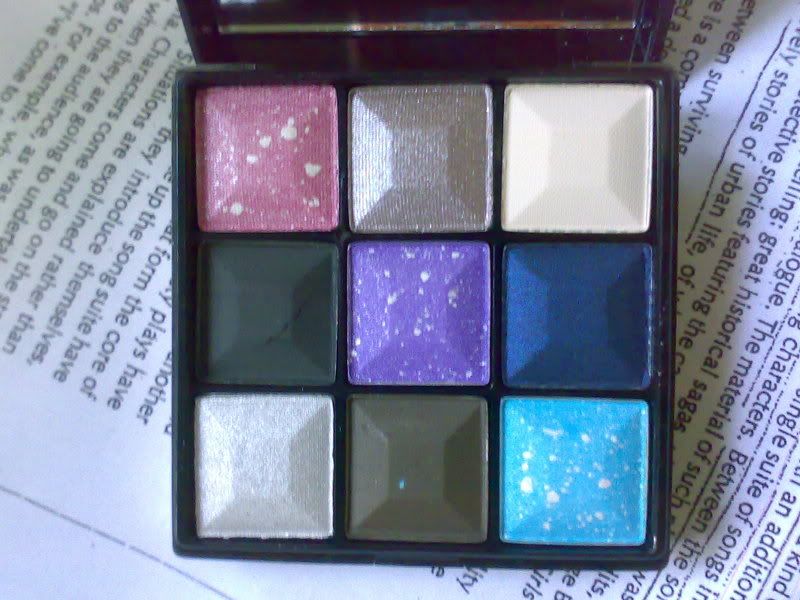 8 out of 8 people found this review helpful. Was this review helpful to you? Yes No
Eye Shadow -NARS - All About Eve Duo


saikick 5/14/2008 10:41:00 AM
This is by far the most pigmented eyeshadows I have ever used. The price is reaaaaaaaaaaallly steep, but honestly, the quality of this is just fantastic. I have so many different colours, but my favourite so far is Bohemian Gold. It comes with a golden, chocolate brown shadow and is paired with a golden dark rosey shadow. Oh, just fantastic!! The good part is that it stays put with my oily eyelids all day, and I love experimenting with so many differnt colours! You can mix and match from all of the duo's and still end with a fantastic finish. I use All About Eve as a highlight base, as it contains two beautiful shimmery light pink shadows. You can use it as a base for your shadow, or use it as highlighting around the eyes and on the nose for a nice effect. This would probably be a nice staple to those who enjoy highlighters, but not want to carry a big stick, like NARS' multi, Copacabana. Packaging is cute with the mirror, but I wish it came with an applicator. This is best used with a shadow brush to sweep over your lids, because it's so pigmented! Wonderful product, will be purchasing more in the future.
Was this review helpful to you? Yes No
Liquid -MAC - Studio Fix Fluid SPF 15


saikick 5/14/2008 10:34:00 AM
This broke me out after 2 weeks of use... The colour the SA also gave me was toooooooooooo yellow. I have heard both good and bad reivews on here, but I guess this foundation didn't go too well with my skin. The texture of the product seemed nice and light, but once put on, it feels rather heavy. I had to blot my face a lot during the day to lower the sebum production. I've never been a big fan of MAC, but I hear so many good reiviews on it so I decided to give it a shot, but I won't be repeating this again.
Was this review helpful to you? Yes No
Misc Beauty Tools -Tweezerman - tweezers


saikick 5/14/2008 10:29:00 AM
Best.Tweezers.Ever. I bought this in the LE breast cancer package that comes with the slant, and the fine point. Can I say, it picks up ALL stray hairs!? Love it, dig it, will stick to it. :D
Was this review helpful to you? Yes No