Lip Gloss -MAC - Love Knot (Naughty Nauticals)


psychoexgirlfriend 6/23/2008 1:36:00 AM
I love Love Knot. Initially, I only got Port Red lipstick from MAC's Naughty Nauticals collection. I found Love Knot to be very intriguing but I passed on it initially. After debating about it for a few weeks, I grabbed Love Knot Lustreglass as well. As many reviewers have noted, the blue duochrome quality of this gloss makes it cool-toned. While this is why it caught my eye the first time I swatched it on my hand, it was also the reason I passed on it at first. Warm-toned girls generally shouldn't go for cool-toned colours. However, I've found that the combination of the sheer fuchsia gloss and the blue duochrome make for a very pretty jewel toned gloss. It stands out beautifully against my Asian skin. I wear this generally with a neutral and light eye, as I find this lippie demands a lot of attention. However, it's quite beautiful paired with a medium neutral eye as well. I've worn this a few times since grabbing it. I definitely would buy it again. It's quite the unique lipgloss and definitely a stand out my in collection PS: this looks amazing paired with Vivacious lipstick from MAC's Strange Hybrid collection.
Was this review helpful to you? Yes No
Lips -Laura Mercier - Lip Stain in Scarlet


psychoexgirlfriend 2/11/2008 12:43:00 AM
What: Laura Mercier's Lip Stain in Scarlet ($26 CAD $20 USD) is available at Holt Renfrew in Canada and Sephora, Nordstrom, Macy's and Neiman Marcus in the States. Scarlet is the newest colour released by LM, described as a "rich, classic red". According to the website, Laura Mercier Lip Stain provides the visual effect of a stain with the comfort and sheen of a lip gloss. * Long term wear with a satin, balmy finish * Leaves the look of effortless polish and understated sophistication * Hybrid of stain and gloss formula * Clear glass pot allows for quick application with fingers or Lip Colour Brush - Pull Apart * 0.21 oz. Details: Packaged in a small pot, this lipstain is a solid product, unlike many other popular lip stains out there on the market (Benefit's Benetint, Stila's Cherry Crush Cheek & Lip Stain). Colour: Scarlet is an deep, intense red, more blue based than orange or brown based. Nonetheless, I'd still put this more in the neutral category than cool or warm. On the lips, Scarlet is a bright cherry red after one layer - like a just bitten look. After a couple more layers, it is fairly true to the colour in the pot. Packaging: Aforementioned, Laura Mercier's lip stain is packaged in a clear glass pot. The disadvantage of this is that it can get unsanitary if applied with fingers. If you're constantly dipping your fingers in there, be sure to do so with clean hands. The advantage of this is that you can get every last bit of product. In addition, you have better control over how much you apply. Application: Most people will probably apply this with their fingers. Like I mentioned before, be sure your hands are clean! Just dab lightly into the product and then press onto the lips. Otherwise, you can also choose to apply this with a lip brush, which offers a more precise application. I'd make sure my lips are well moisturized and exfoliated, since this product will emphasize any dryness you may have. Texture: I was hesitant about buying a lip stain, as they can be very drying. However, I'm happy to report that this lip stain does not dry out the lips. Then again, it doesn't moisturize either. I'd recommend prepping the lips with a heavy duty lip balm before applying it (make sure to take off the balm off before you apply the stain). I'm not sure how it's a stain/gloss hybrid - to me, it seems nothing like a gloss. The texture is definitely a matte as would be expected from a lipstain and definitely not glossy. Like your lips are,... well, stained from eating a cherry Popsicle. Lasting Power: I applied this item first thing in the morning before work, had two cups of coffee and lunch. Add in a lot of talking on the phone throughout the morning. Afterwards, I went to reapply. To my surprise, there was actually still a lot of colour there. I chose not to reapply. Another afternoon tea (yes, I down too much caffeine in a day) and s'more talking on the phone, and by the end of the work day, I did have to reapply - but it wasn't a full application. Just a light dab for s'more colour. Transfer: I did see a bit of transfer on my coffee cup. However the real test was when I kissed my boyfriend on my lips (the point of buying a no-transfer lip product was so my boyfriend wouldn't be scared to kiss me and end up with a made up face.) It mainly stayed on my lips and his. The only time I saw any real transfer on to him was when I applied the lip stain over my lip balm. Even then, it was faint compared to a true lipstick. Looks: I chose to pair this with soft neutral eyes and a red blush applied with a very light hand to give a flush look. This was more than enough colour without being overpowering. Very pretty and girly - a look I'm thinking about doing for Valentine's Day. I'd also consider just applying this lip stain for days when you're too lazy to do anything else. It adds a great pop of colour which gives life to your face.
15 out of 16 people found this review helpful. Was this review helpful to you? Yes No
Eye Shadow -MAC - Pigment in Sweet Sienna [DISCONTINUED]


psychoexgirlfriend 1/11/2008 12:43:00 PM
What: Sweet Sienna came out with MAC's holiday collection: Antiquitease Color. It was one of the three pigments released, the other two being Your Ladyship and Gold Stroke. I was initially not forthcoming with the pigment as it seemed like another cool toned taupe pigment. I can't do cool toned and I certainly have more than enough taupes in my makeup collection. Colour: MAC's website describes Sweet Sienna as a dirty brown with grey pearl. From my point of view, however, I'd describe Sweet Sienna as a dirty grey with brown pearl. Small difference, but to me, the grey is more predominant than the brown. Sweet Sienna would fall into the taupe category, however it's one of the most exciting taupes I've come across. It's more complex than other pigments; although its got a definite brown to it, there are also flashes of blue and green with the right light. Initially, I would have labelled this cool toned; however, on my skin, it doesn't look ashy as most cool tones do, so it must fall under neutral toned. Texture: One of my main caveats about pigments is their fallout. Because pigments are essentially loose powder, it can get quite messy. I am happy to report, however, that Sweet Sienna had minimal fallout. (Please keep in mind that this is with Beiging Shadestick as a base. I always use Beiging Shadestick under my shadows.) In addition, it also goes on quite smooth, almost like a cream eyeshadow. I've never had a shadow behave so well. In terms of shimmer, Sweet Sienna doesn't strike me as sparkly or frosty at all, although MAC labels it as a frost. That's not to say it's flat or matte. In fact, it's got loads of dimension, but it's more subtle. Lasting Power: While it wasn't going to run a marathon, Sweet Sienna lasted well enough through the day. It didn't fade, but then again, neither do the majority of my MAC pigments. Looks: Applied as a light wash, Sweet Sienna can definitely be worn alone during the daytime, especially since it doesn't have that in-your-face glitter that MAC pigments are notorious for. However, I find it's more exciting at night as part of a smoky eye. As a matter of fact, last night I incorporated Sweet Sienna with MAC's Royal Assets smoky palette. The two pair wonderfully together. I imagine the colour would also work well applied to the crease and outer v, paired with a lighter pigment such as Your Ladyship on the lid. Comparable Alternatives: It's definitely in the taupe family but is nowhere near similar to my other taupe pigment, Sunnydaze from the SheShines Collection (summer 2006). Sunnydaze is predominantly brown with silver pearl whereas Sweet Sienna is predominantly grey with brown pearl and hints of blue and green pearl. I also compared it to Cargo's Fiji and Stila's Diamond Lil eyeshadows. Again, these colours were mostly brown and also darker in tone. Diamond Lil was probably the closest match although it's quite different altogether from Sweet Sienna. Overall: While I initially wasn't impressed with Sweet Sienna when I first saw it; all the rave reviews online persuaded me to give it another try. I'm glad I did as it's a gorgeous and truly unique colour. In addition, the texture is superb. I think I'm going to go back and pick up the other two pigments.
7 out of 7 people found this review helpful. Was this review helpful to you? Yes No
Blush -MAC - Mineralize Skinfinish - Light Flush


psychoexgirlfriend 1/11/2008 12:18:00 PM
Light Flush is one of MAC's two new Mineralized Skin Finishes (MSFs) that have come out with the N Collection, launched January 2008. MSFs can usually be used either as a blush, highlight or bronzer, depending on the colour, pigmentation and shimmer/glitter. For myself, Light Flush works as a blush on my NC30 skintone. Colour: Light Flush is a light to medium warm pink with raspberry and bronze veins throughout. It is deeper in colour than Porcelain Pink and more of a truer pink than Northern Lights (which is more salmon pink to my eye) - the other two MSFs I've had. From the swatches I've seen on MUA, LJ and beauty blogs, Light Flush most closely resembles Petticoat, although warmer in tone. It also bears a bit of resemblance to Stereo Rose in some swatches as well. Pigmentation: I find Light Flush has more pigment than Porcelain Pink and Northern Lights. While the other two MSFs work more as a highlight over blush, this one can definitely stand on its own as a blush. It shows up on my NC30 skin as ... well, light flush. Like I've just come in from the cold. Shimmer/Glitter: One of the most pleasant surprises to come out this new crop of MSFs is the lack of glitter. Instead, both Warmed and Light Flush have a shimmer - much finer than glitter. On the skin, the shimmer is even less noticeable and is more of a warm gold metallic sheen. This is similar to the light gold sheen that Porcelain Pink gives off. It's not in your face as well - I only really saw this when I caught a glimpse of myself in the bathroom mirror. It does not make me look oily (which I can look sometimes since I have combination skin) but instead just glowy. Overall, I really like Light Flush. It really is one of the better MSFs that MAC has come out with as of late. I only gave this product four lippies however as it's not really a daytime wearable product - the shimmer/sheen definitely makes it more of a night time, going out item. Those with really oily skin or large pores may want to avoid this as it can make the skin look even oilier and the pores look even larger. It's certainly not HG and I have a feeling I may end up getting tired of it in a few months.
30 out of 31 people found this review helpful. Was this review helpful to you? Yes No
Makeup Brushes -Quo - Bronzer Brush


psychoexgirlfriend 1/4/2008 2:09:00 PM
I bought this originally as a cheaper alternative to MAC's 187 skunk brush, since I heard the 187 was great for applying heavily pigmented blush. Being a blush whore and all, I needed something that would help me get a lighter hand. And at $16 at Shopper's Drug Mart, how could I go wrong? What I didn't realize was how huge the brush head would be on this Quo brush. I tried it a few times with blush to no avail. It was simply too large. Same goes for bronzer - it was too much. However, one day when I had just washed my powder brush but needed a quick dusting on my face to set my makeup, I reached for this and it was perfect! Light and even application all over. I also like to use this for mineral foundation (the loose powder, not the pressed or liquid formulas) since it's a light more sheer of an application and looks more natural. I don't have horrible skin - I just want to even out the colour which this brush helps me do. I actually use this as my main powder brush now. The bristles fell out quite a bit when I first used this but now that it's been about 6 months, I find that it doesn't happen anymore. In addition, I didn't find the bristles had any film on them nor did they run/fade like other skunk brushes have been known to do. I'd rather give this brush a 4.5 rating since it's not exactly a bronzer brush in my opinion but definitely a powder brush. However, I'm feeling generous and decided to round up instead of down. This is a great brush to have in your collection and I highly recommend it to anyone.
Was this review helpful to you? Yes No
Blush -MAC - Cantaloupe


psychoexgirlfriend 7/29/2007 3:08:00 PM
MAC Pro's website describes this as a "Rich warm cantaploupe [sic] (Satin)". This is a recently released product. It has been sold out from my store since the day it was released but luckily I finally got my grubby lil' hands on one.
Colour: The picture shown online is about two shades lighter than the actual product, however the tone is very accurate. As MAC's description says, this is a very warm peach blush. Wearing it on my C35 Asian skin, it is a natural peach, not gaudy or garish at all. The colour is yellow based and thus helps to minimize the redness on my cheeks without foundation applied underneath.
Texture & Pigmentation: This blush is smooth and quite creamy feeling actually. MAC describes this as a Satin and I quite agree. It looks glowy on my cheeks but certainly not frosty by any means. It is quite pigmented, meaning I only need to swipe my brush on it once per cheek. However, it is not so pigmented that it looks unnatural on my skin.
Lasting power: This blush lasts well enough. If I apply it in the morning before work, it's still there by lunch. But the end of the day, it is quite faded. However, that's more than enough lasting power for me.
Overall: I am quite surprised by this blush. MAC blushes usually don't do it for me. I am a diehard NARS fan. However, this blush lives up the best NARS blushes in terms of color, pigment and texture. I would definitely buy again.
13 out of 14 people found this review helpful. Was this review helpful to you? Yes No
Highlighters -Stila - All Over Shimmer Liquid Luminizer - 6 - Peach


psychoexgirlfriend 6/16/2007 2:19:00 PM
Colour: Stila's Liquid Luminizer #6 is a peachy bronzed pink, very very similar in colour to Benefit's Hollywood Glo. (note: You do not need both highlighters.) On the skin, this leaves a nice bronze glow, very much like Jennifer Lopez's glow in her videos. I use it to highlight my cheeks , my browbone and the inner corners of my eyes. It is very wearable for daytime on my C4 skin and just looks like a glow rather than makeup. Application: This product comes with a brush attached to the cap (very much like nailpolish). It makes for easy application as you can control how much you put on and where it goes. Texture: It is a liquid formula, not at all creamy like Hollywood Glo. However, once applied, it dries nicely without any oily residue (yet not a powdery texture either). I have oily skin and this does not make me breakout, leave me more oilies nor does it make me look like an oilslick. This is usually one of the last steps in my makeup routine after foundation, and bronzer/blush. It blends nicely without a frosty finish, harsh lines or garish glitter. It looks like my skin but better. Dupes: I mentioned before that it is quite similar in colour to Hollywood Glo. While you can get similar effects from both, I very much prefer this. Hollywood Glo is much harder to work with so it appears "natural" whereas LL #6 is pretty idiot proof. Overall: I would by this again if Stila re-released it as it is Limited Edition. If you want to purchase this, it is currently available at strawberrynet.com for a discounted price.
2 out of 2 people found this review helpful. Was this review helpful to you? Yes No
Lipstick -MAC - Vivacious


psychoexgirlfriend 6/16/2007 1:59:00 PM
Vivacious is a limited edition lipstick released with MAC's C Shock collection. Like most of the other products released with C Shock, this lipstick is brightly coloured. In terms of colour: MAC's website describes it as "sheer mid-tone pink with silver pearl". For those who are looking at the swatch at their website, please note that it is a much brighter pink than what is shown. I find that the swatch for She Boom lip gelee to be a more accurate representation of the colour of the lipstick on the tube. I also feel I should mention that there is a noticeable amount of glitter as well. I would describe it as a fuchsia pink with blue undertones. Although I am a very warm C4, I find this colour wearable. Perhaps because the warm undertones complement the bright jeweltones of the colour. Pigmentation and Texture: The colour of the lipstick when applied is more sheer and wearable than one would think. I find this formula quite sheer. One swipe is daytime appropriate and three swipes will get me the colour that is in the tube. On my light to medium pigmented lips, it is a sheer fuschia with silver glitter. Be warned that if your lips are chapped, the glitter will emphasize that. While the glitter is finer than I expected, it still gives your lips a gritty feel (although not quite as bad as Dior's Shiniest Rose lipstick). After wiping off the lipstick, there is still a lot of glitter left behind on my lips (and a bit that migrated to my chin as well). As for lasting power, I wore this first thing in the morning for work, reapplied at lunch and it lasted me until dinner. Minimal fading and it did not leave my lips stained at the end of the day. Dupes: I have seen swatches of this next to Rebelrose and Rockin' Chick. It is quite similar to Rebelrose, and you do not need both. Rockin' Chick however is much deeper and pigmented while this is more sheer. I find this shade comparable to Dior's Red Currant gloss, also a sheer vibrant pink (but obviously it's a gloss, this is a lipstick). Overall, I would buy this again. It's a great colour for spring and summer. Quite girly and fun.
7 out of 7 people found this review helpful. Was this review helpful to you? Yes No
Bronzers -Wet 'n' Wild - Cayman Islands


psychoexgirlfriend 5/28/2007 3:48:00 PM
This is one of three new bronzers from Wet N' Wild. This one has neutral peachy tones, as opposed to the gold tones (warm) and the rosy/pink tones (cool) of the others. The product comes in a round plastic container with a twist off cap. It has four strips of colour. Here is a picture: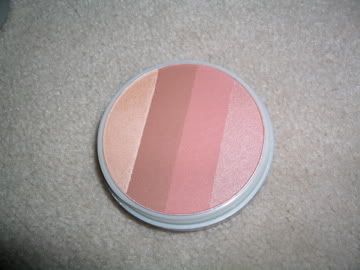 The colours are all coordinated nicely if you should choose to use the individual stripes as eyeshadow. Here is a picture of the stripes on my C4 skin in natural light, no flash.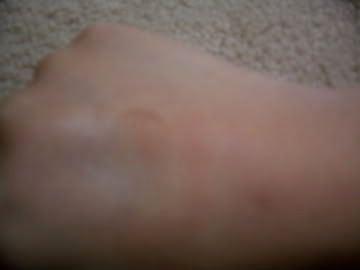 (the colours l-r coordinate with l-r stripes of colour in the pic above)
However, you can also just sweep your brush over all the colours to use as a blush/bronzer. Here is the colour as a blush: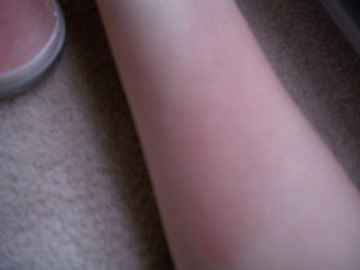 As you can see, the colour is quite pigmented, so it is easy to use too much. I'd advise against using the bronzer brush that is displayed with this bronzer as it will pick up too much colour and you may run the risk of looking sunburnt. (The brush looks like a kabuki, fyi)
One cavaet I have with this is that the colour does fade away, so that by the end of my workday I have no colour on my cheeks (although it was there still at noon). It does not have the same lasting quality as my Nars. Then again, I paid $29 CAD for Nars and $6 CAD for this, so who am I to complain?
28 out of 28 people found this review helpful. Was this review helpful to you? Yes No
Eye Shadow -NARS - All About Eve Duo


psychoexgirlfriend 1/16/2007 1:03:00 AM
I kept hearing raves about AAE but never bought it. Everytime I stopped by my Nars counter and swiped it on my fingers and the back of my hand, I never saw what was so great. Then, I found I could get it for a discount on a website so I took the dive. I am glad I did as this is truly a great eyeshadow duo. Yes, it's not the one you'd look at first, or even second. But it's great for everyday. I love using the frosty (right) shade as my highlighter - moreso than Vanilla pigment or Stila All Over Shimmer. It's not obnoxious as the other two can be. I also use the left shade as a base for many looks. I find myself reaching for AAE everyday or every other day.
Was this review helpful to you? Yes No
Blush -Cargo - Tonga


psychoexgirlfriend 1/16/2007 12:58:00 AM
I like Tonga. It's a good blush for everyday. It's a good work blush. It matches most makeup looks. It works well for those days you want the emphasis to be on your eyes or your lips. It's subtle. It's understated. Of course, the flip side is that it's also boring. I will continually use my Tonga until it runs out. But then I'll look for other blush options.
1 out of 1 people found this review helpful. Was this review helpful to you? Yes No
Blush -Stila - Color Push-Up in Berry Flash


psychoexgirlfriend 1/16/2007 12:56:00 AM
My friend recommended this blush to me when I was still a neophyte to blush. I was scared of looking like a clown, so this seemed perfect. It's so sheer and subtle. So I ordered it on Sephora. And then,...somewhere in the two weeks it took to ship, I became a blush whore and this blush was just TOO subtle for my tastes. Down to the bottom of my traincase it went. I tried it on again recently and my boyfriend asked me if I had a rash on my cheeks - they looked irritated or something. Yeah, the flush looks like it's coming from within but more in a bad fever kinda way. It brought out the ruddiness in my skin, even after I applied my foundation. Odd. As well, it felt oddly sticky on my skin when I wore it out. I think it's the creme/gel factor - I'm admittedly a powder blush kinda giri...Anyway, this is great for a newbie blush girl but if you're more brave, I'd look elsewhere.
1 out of 1 people found this review helpful. Was this review helpful to you? Yes No
Powder -Stila - Illuminating Powder Foundation


psychoexgirlfriend 1/11/2007 12:52:00 AM
I have never encountered such a natural looking powder foundation before - and it actually gives me coverage. I have a lot of red undertones to my skin which IPF covered up easily. I use a brush very similar to the Sephora Blush Contour brush to apply the product which gives me just the right amount of coverage (no foundation underneath). Everything looks evened out but not cakey or chalky or even obvious. I also like how it's not super matte and thus my face doesn't look unusually flat when I have it on - perhaps why it looks so natural? Anyway, I've used this everyday since probably September. I hit pan back in November which I'm surprised at because I had my MAC Studio Fix for almost three years now and still have yet to see Pan. (Really, it's a testament to how much I love IPF.) I'll probably need to buy a refill within a month or two. But I won't regret it as I love IPF.
Was this review helpful to you? Yes No
Blush -NARS - Exhibit A


psychoexgirlfriend 12/17/2006 3:05:00 AM
I love this blush. I was lemming for it for about two or three months before caving in and buying it. It's a bright tomato red just like in the picture below. It's also extremely pigmented, meaning I just lightly dab my blush brush and that's more than enough for me. I'm a 30 Watts Asian girl with a perma-tan and I use this to warm up my face in the winter and to give me a lovely natural flush in the summer. It's hard to explain, but whenever I put on this blush, it makes me look like I've been vacationing on a far away island in the bahamas.
Was this review helpful to you? Yes No
Eye Shadow -NARS - Star Sailor Duo


psychoexgirlfriend 12/17/2006 2:55:00 AM
I went to the Nars counter to check out Bohemian Gold and India Song, but walked away with Star Sailor instead. When the MA recommended this for me, I had to admit I was hesitant as I already have a ton of light yellow golds and khaki brown/olives. However, it is quite the unique looking e/s duo especially on my warm Asian skin. They work great as stand alone shadows, but I think it's the combination of the two side by side and blended together that makes this duo a winner. I love this duo but it can be a bit much for daytime. As well, I can see this going very wrong for someone with cool undertones.
1 out of 1 people found this review helpful. Was this review helpful to you? Yes No