Cleansers -Garnier - Pure 3 in 1 Wash-Scrub-Mask


prettyelectric 5/18/2011 2:09:00 PM
I have only been using this product for around three weeks, but already I've noticed a dramatic difference in my skin through using this. This for me is one of those holy grail products which change your skin for the best the very first time you use it; the kind where you go through the day forgetting you've used it until you look in the mirror again - and the appearance of your skin reminds you. This works fantastically as a daily wash but also incredibly well as a weekly mask for really getting deep into your skin. My skin feels truly deeply cleansed, refreshed and purified as a result of using this.
1 out of 1 people found this review helpful. Was this review helpful to you? Yes No
Bath Treatments -LUSH - Big Blue Bath Bomb


prettyelectric 1/29/2010 6:42:00 PM
The mess this makes in the bath is SO worth it to me (and it DOES make a mess!). I use this when I feel exhausted, have a headache, want to give my mind clarity, or if I want to feel like a mermaid. :P It turned my bath an absolutely gorgeous azure blue colour, and although I have a fear of spiders getting into my bath (those bits of seaweed do kind of resemble spiders legs!) the seaweed was fine with me! It really does help clear your mind as the fragrance is so refreshing and clean. Using this product is a real treat. Will definitely repurchase.
Was this review helpful to you? Yes No
Skincare - Body -LUSH - Strawberry Feels Forever massage bar


prettyelectric 1/29/2010 6:35:00 PM
I was critical about this product at first use... It has a greasyness which seems to linger on the skin for a long time until scrubbed off, although in the context of a massage it is pleasant as the product warms effortlessly and melts sensually on the skin. It's just when you feel this on your body until your next shower which puts me off a little - it doesn't just blend in as a moisturizer would, it does make its presence known after use in positive and negative ways. The smell if very pretty and scents the skin very nicely. I use this specifically on my legs after I have shaven and I don't think I've ever used anything after shaving which leaves my legs looking and feeling sexier. It also gives shine to the skin, which I think looks best on legs as it draws attention to their smoothness. I took a lippie off because I don't like using this on many other places on my body because of th greasyness. I have yet to be actually massaged with this, (or use it on someone else!) but I will update this once I have. :)
Was this review helpful to you? Yes No
Bath Treatments -LUSH - Melting Marshmallow Moment


prettyelectric 1/29/2010 6:26:00 PM
The smell is absolutely divine and probably my favourite scent from LUSH products. However, my skin did not smell of this when I got out from the bath, which I was dissapointed with. I use half to dissolve in the bath water, and half to use all over my body as a scrub!! And actually... I found this very effective as an exfoliator! I wasn't sure whether to give three or four lippies, because even though I adore it, it is very expensive for what it is and that you can only get a few uses out of it.. You could realistically buy a bottle of bath gel which would last you for ages, for the price of one of these bath melts. There seem to be conflicting experiences about the colouration of the bath water, but in my experience (and this is using a full melt) it only turned my bath very very feintly pink, and I do enjoy the bath melts which turn the water a rich colours. My skin feels soft afterwards, but the entire bath experience is not nearly as lavish as it is with other LUSH bath products; there were barely any bubbles at all. While this is a nice product to use, I think I will repurchase once more and then go onto something else.. At the price it is, it's not really outstanding enough for me to warrant many purchases. If it were cheaper, I'd be more inclined to purchase. I do have to reiterate though, the smell really is divine... it's just a shame that is doesn't do much for leaving its fragrance on the skin!
Was this review helpful to you? Yes No
Lip Treatments -LUSH - Bubblegum Lip Scrub


prettyelectric 1/29/2010 12:46:00 PM
This is over-priced sugar in a pot.... That is literally it, and I really am furious with myself for having bought this. I feel really taken on by LUSH with this and actually a little insulted that they would do this to their customers because it's a complete joke. It does EVERYTHING that sugar from your kitchen does, and nothing more. The ingredients are as follows: Castor Sugar (Sucrose), Organic Jojoba Oil (Simmondsia chinesis), Flavour, Colour 45410, Colour 45380}... That's it. It's an over-priced sweet. If you want a better deal, use the sugar that you keep in your kitchen on your lips - you will get the same result.

- Spring 2010 update -

I see many disgruntled people have referenced my review of this one! Those who have advised AGAINST making your own lip scrubs from sugar have their most salient point regarding bacteria. But if you literally take a fresh teaspoon for immediate use for use as a scrub, that way there is no way bacteria can infest it.
Those who have said they don't have time to make a lip scrub - it takes more time to pay out for this product that it would to make your own scrub. To copy this at home, all you need to do is lick your lips, and then smudge some sugar over them. Voila.
I literally can't believe a whole 80% would pay out for this tosh, when it's cheaper, easier and more convenient to rub some sugar on their lips at home. If it's the TASTE you crave, then perhaps you should buy some sweets instead - you'll be able to get tonloads more for your money.
Was this review helpful to you? Yes No
Gels/Soaps -LUSH - Yummy yummy yummy


prettyelectric 1/29/2010 12:29:00 PM
The smell is divine - quite a herbal strawberry but still sweet. However, like many other reviewers, I found this to be very runny, and not very lathery... which - cream or gel - I'd really want some of in a shower product. Also (unfortunately the same goes with many other LUSH products) I did NOT feel as clean as I usually do after a shower, so that, combined with the runnyness and little body coverage just made the product feel a bit useless. I end up using (or mixing with) my Raspberry Mlkshake from N-Spa which lathers perfectly to make me feel clean. The hardness and thickness of the material which bottle is made from, makes it difficult to easily squeeze into the palm of your hand when you're in the shower, which is pretty annoying. Aside from the scent, there is not much to promote with this product, so I'll not be repurchasing.
Was this review helpful to you? Yes No
Gels/Soaps -LUSH - Honey I Washed the Kids soap


prettyelectric 1/21/2010 2:13:00 PM
Extraordinarily over-hyped. I really am confounded by it.. I should start off by saying that I do love Lush products, and this product is OKAY - but to me, it is just that. Not good, not too bad, but it dried my skin rather than hydrate it.The honey smell is a lot fresher and 'breezier' than I thought it would be, isn't cloggy or too overpowering. It doesn't lather very much at all. The only thing I liked about this was the smell, but that is not enough to make me want to repurchase.
Was this review helpful to you? Yes No
Scrubs -Unlisted Brand - SugarScrub - FCUK


prettyelectric 1/22/2009 11:54:00 AM
This is - without a doubt - the worst beauty product I've ever had the misfortune to buy. I bought this because I needed a scrub; the area I was visiting at the time strangely did not stock a single St Ives scrub anywhere so I had to search for others. I suppose it was the packaging and name which appealed to me the most - I like sugar, strawberries, shea butter... mmm... it seemed like it would be good. When I got into the shower however, chaos ensued.. I used it just as I would a regular scrub - little circular motions.. At first it felt ok, I could see the sugary grains working away, but when it came to washing it off, it was just a disaster. There was NO way this stuff wanted to come off and it felt tacky. Tacky, skanky and very greasy. It gave my skin a sort of 'waterproof' sheen. The only way I could get the awful residue from my skin was to SCRATCH it off! I scratched some of my skin and beneath my fingertips was this disgusting gunk. I will never purchase this again. I'm just going to throw it out.. I don't even want to give it to anyone.
Was this review helpful to you? Yes No
Treatments -KMS California - Blonde Treatment


prettyelectric 6/29/2008 8:59:00 AM
I have dyed blonde hair which has a tendancy to look yellow and brassy; I had hoped that this would help bring an ashy tone to my hair but I needed to buy another dye for that as this product is not strong enough to wipe out any bright brassyness or to actually resolve colour problems such as the reviewer immediately below me.

However, in my experience this left my previously parched hair silky, light and it absolutely lives up to its claim of good combability even when wet which is wonderul as my hair is usually a nightmare to comb. With a few uses, I have noticed a very slight reduction in brassyness, but as I have said before, I have needed to re-tone my hair in order to get the ashy tone I've been searching for.

I would absolutely buy this again - I can't remember when a conditioner left my hair this silky.
Was this review helpful to you? Yes No
Liquid -Revlon - ColorStay Makeup with SoftFlex SPF 6 for Combination/Oily Skin


prettyelectric 6/18/2008 6:46:00 PM
I bought this because my HG foundation L'Oreal True Match in C1 was out of stock at the warehouse and couldn't buy it anywhere so needed an alternative. I chose this because (as airheaded as it will seem) it LOOKED like it would be the kind of stuff that would work for me. I also liked that it had SPF.

This could NOT be applied with a foundation brush, as I am used to - it completely clogged the brush up and left it stiff and left my skin looking hideously blocked and caked. Applying with my fingers was better (less product to be absorbed by the brush), but the finish is not nearly up to the standard I'm used to with L'Oreal True Match.

The bottle is capped so you have to pour it onto the back of your hand before applying which can waste a lot of the product. Applying is tedious if you want even coverage: a little does not seem to spread, but saturate into the skin clogging the pores. In outdoor, natural lighting, pores look ridiculously visible that it would be more advisable to simply use a concealer where needed rather than leave your skin looking so caked. By the end of the day, the pores on the tip of my nose are like dark dots - not a good look and I am absolutely sure this has contributed to wrinkles as the texture is thick, heavy and cakey.

I can't wait to get back to L'Oreal; will not be purchasing this again.
Was this review helpful to you? Yes No
Fragrances -Viktor & Rolf - Viktor and Rolf Flowerbomb


prettyelectric 6/7/2008 2:43:00 PM
Disclaimer: Angel addict speaking...

...FlowerBomb is so, so much like Angel it can be almost impossible (in my opinion) to tell them apart. What does set FlowerBomb apart from Angel, is its delicate powderyness, and very tenderly floral (yet positively not in ANY way "grandmotherly floral") softness; - FlowerBomb is not as overpowering or as spicy as Angel. Both are exquisite scents in their own right and I can honestly say that I do not feel either is superior to the other.

Just as the slightly oxymoronic nature of the saying: 'a light heart is a wonderful armor for living', even the secret pleasure of carrying this perfume in my handbag is a sweet little joy to behold itself ~ the crystal-like, multi-faceted quality of the bottle makes me feel somehow strengthened with a soft, but very enigmatic beauty. The entirety of this eau de parfum is luxuriously exquisite, making the minor fortune of £46 for 50ml happily worth the expense. :) I will be purchasing again.
2 out of 2 people found this review helpful. Was this review helpful to you? Yes No
Hair Color -L'Oreal - Couleur Experte -hair dye / highlight


prettyelectric 3/16/2008 7:18:00 PM
I bought this in 9.13 Creme Brulee - Very Light Blonde.

I used this on slightly pre-lightened hair that was slightly brassy (previously medium brown), and I hoped this would provide a nice base colour as well as pretty light blonde highlights like on the image on the front. I got exactly that and am delighted with the results - I now have exactly what was on the cover which completely surprised me as I had never before used one of these kits before, and I've never had the exact same result on the packaging before! Don't be put off by the negative reviews - if you follow the instructions, buy the right colour kit for you (be sure to check as on the side of the box, it tells you what to expect for your personal colour ~ VERY IMPORTANT if you want to avoid unwanted orange / yellow colours! This is probably why buying in person is an advantage; and be sure to go through the spplication step with PATIENCE (freak-outs promise things to end in disaster! Just stay calm).

I found this extremely easy to use and apply; the blue highlighting creme was lovely to use and made it simple to effectively highlight as you could clearly see the parts which had been highlighted unlike the clear / transparent / white highlighters such as Clairol Born Blonde. The blue also eliminates any trace of brassyness; again - not the case with white highlighting kits, so there is little need to keep using a toner to tone out the yellow or orange tones. The conditioner comes in a tube and smells absolutely out of this world beautiful.

The only negatives --
1. The mascara-like brush is flimsy and feels kind of cheap. It bends quite easily (unconvenient). Can you imagine brushing a mascara wand through damp strands of your hair? The texture of the brush really doesn't work for the texture of human hair. It should be more comb-like rather than fuzzy bristles.

2. I wish there was just slightly more highlighter! I was scared I'd run out of the stuff - which I very, very nearly did. If I'd have wanted a full head of highlights, I would not be able to achieve that with just one kit.


PICTURES FOR YOUR REFERENCE: --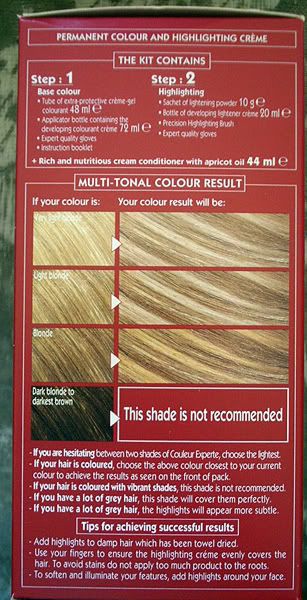 In 2nd / highlighting step: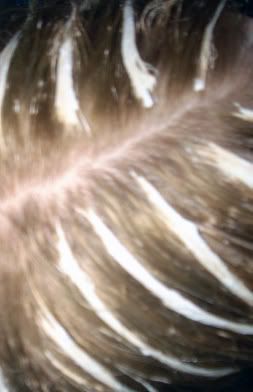 After: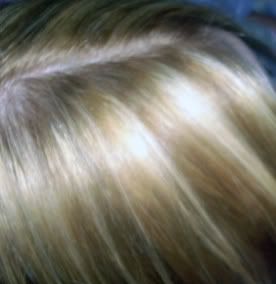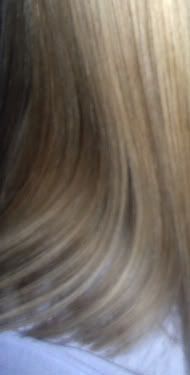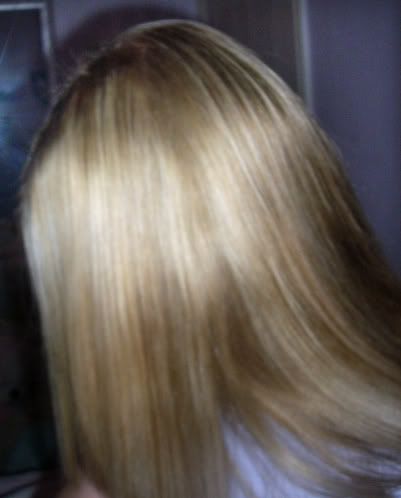 24 out of 24 people found this review helpful. Was this review helpful to you? Yes No
Scrubs -Olay - Regenerist Thermal Skin Polisher


prettyelectric 10/9/2007 8:41:00 PM
Like the reviewer below me, I purchases this as I recieved a discount for the Regenesist line at Boots. The only reason I decided upon this, was because it was the only product from the line which wasn't way out of my price-range! and it also seemed pretty decent also.

The sensation of it heating up on my skin is pleasant but it fades too quickly for me to notice the heat actually do anything practical for my skin - it seem like just a novelty. I also haven't felt it do much for my skin in anyway, possibly because I have other products which simply work a lot better for my skin than this. In fact, the only times I use this are on cold Winter mornings when my hands or face are cold! ;D I won't be purchasing this again, but oh well - at least I didn't pay full price for it.
Was this review helpful to you? Yes No
Cleansers -Nivea - Refreshing Facial Cleansing Wipes


prettyelectric 8/12/2007 1:13:00 PM
They do mainly what they say they do - remove makeup, etc, etc - but it wasn't worth it to me, as these wipes stung my face to hell! Ouch... trying to get my makeup off with these wipes stung my face so badly I have to throw the rest away. What I find kind of funny is, I'm now using Aloe Vera & Vitamin E Baby Wipes ~ which cost me £1 for 80 wipes per pack; Nivea Visage Refreshing Facial Cleansing Wipes were horrible, they hurt, and yet cost £4.50 for 25 wipes per pack! Um... I'll happily stick with my baby wipes! ;D
1 out of 1 people found this review helpful. Was this review helpful to you? Yes No
Lip Gloss -Too Faced - Lip Injection - Techno Tart


prettyelectric 8/7/2007 9:42:00 PM
Ukk...I'm actually not sure I didn't get a fake on EBay, as I tried this on in the store, and I quite liked it, (even though it burnt just above my upper lip!) and I ordered a cheaper one off EBay and it didn't feel the same.. No plumping, very little tingling, (a tingle at least reassures me that it must be doing SOMETHING haha), and the texture was extremely gunky and sticky I hated it on my lips. The brush also was just rubbish as the bristles stick out everywhere and can make application messy. One thing I DO like, however - is the colour.. It is a plummy, jammy, but quite sophisticated pink... Unfortunately that is the only decent thing about this gloss, so I will leave 2 lippies. Needless to say I won't be buying again!
Was this review helpful to you? Yes No