Foundations -Make Up For Ever - HD High Definition Foundation


goldenchiffon 3/13/2009 11:08:00 PM
Very gimmicky for nothing really special. I have switched over the last few years between Chantecaille, Giorgio Armani, Bobbi Brown & my latest try was this. I would have to say that this ranks last overall. The coverage is decent but by the end of the day (even after setting it with HD powder) it would be almost completely gone. Also, I have never had issues with pimples, but after a few weeks of using this I had more than my share. After looking in the mirror today & seeing that my skin looked very ashy & dry I decided to take this product back.
Was this review helpful to you? Yes No
Highlighters -NARS - The Multiple in Copacabana


goldenchiffon 9/6/2008 9:51:00 PM
If you are looking for something to give you an ethereal glow without obvious chunky glitter....than look no further! I have tried so many products that claim to give a dewy glow (MAC strobe cream, strobe liquid, MAC irridescent powder, Nars albatross, Benefit Posietint & so many others) & I can say that this one is number one on my list!!! This stuff is amazing. It looks really silvery in the tube but once blended in, it looks fabulous. It glides on over my blush & truly gives my skin a glow. It isn't difficult to blend & is in no way sticky! It looks so natural & amazing that I can hardly believe such a product exists! I am soooooo happy I found this! HOLY GRAIL material!!!
3 out of 4 people found this review helpful. Was this review helpful to you? Yes No
Highlighters -MAC - strobe liquid


goldenchiffon 9/6/2008 9:42:00 PM
I love products that make me look fresh & glow without obvious glitter. I was hoping this product would do just that for me. Unfortunately it did not meet up to expectations. It makes me look a bit dewy....but nothing really special. I didn't get that "glow" I was hoping for. I just swapped for NARS The Multiple- Copacabana & I have to say that this product blows Strobe liquid out of the water. Save your money for NARS if you are looking for a ethereal glow.
2 out of 2 people found this review helpful. Was this review helpful to you? Yes No
Blush -BeneFit Cosmetics - Posietint


goldenchiffon 9/6/2008 9:36:00 PM
I purchased this on a whim & landed up taking it back. The packaging is really cheap looking. A pink chrome bottle, so you can't even see how much you are really getting. The color comes out a pepto-pink color & you do have to blend pretty fast or you will have darker patches over your cheeks. The main reason I took it back is that it left my cheeks feeling sticky all day. I love products that make me look dewy & fresh, but was bugged that my hair was sticking to my cheeks. In my opinion this blush is just ok, nothing really special, especially for the price.
Was this review helpful to you? Yes No
Shampoo -Victoria's Secret - So Sexy Shampoo


goldenchiffon 8/1/2008 11:03:00 PM
This shampoo definitely goes on my "holy grail" list. I would have never tried it, if I would not have read the reviews here. The smell is divine & this shampoo leaves my frizzy hair...silky & shiny. I have never had such great hair & I get compliments on it all the time...I consider this my secret weapon...yes it is that good!!!
1 out of 1 people found this review helpful. Was this review helpful to you? Yes No
Eyes -Jan Marini - Age Intervention EyeLash


goldenchiffon 5/15/2008 12:57:00 AM
I purchased this back in March & now in May am barely starting to see a little more eyelash growth. This formula takes a lot of patience & I almost gave up on it. It definitely is not an instant gratification product. I have used this faithfully since March (except for about 2 nights) & was a bit bothered that I spent so much money on a product that has yet to deliver fantastic results. This week is the first week I am noticing more eyelash growth & I am starting to feel a bit better now that I am seeing some results. The results still are not dramatic & I am hoping by June I will start to see something more. I will update then, as of now, I would not repurchase because the results have not been drastic enough to justify the price. I will update if this changes.
Was this review helpful to you? Yes No
Mascara -Maybelline - Define A Lash Waterproof


goldenchiffon 4/27/2008 12:08:00 PM
This is possible the worst mascara I have ever owned. By mistake I bought the waterproof formula & let me tell you that was a HUGE mistake. I will say that this mascara did give me longer lashes, but it also made my lashes extremely dry & even what I would describe as crispy. Also it pulled out about 6-8 lashes every time I took it off (I don't have full lashes to begin with, so every lash counts). Last night I had to use 4 makeup remover pads to get the stuff off & I woke up this morning with black flakes under my eyes, I vowed never to use this mascara again. Save your money & buy Loreal Voluminous instead.
2 out of 2 people found this review helpful. Was this review helpful to you? Yes No
Treatments -Pantene - Pro-V Restoratives Time Renewal Replenishing Mask ] [DISCONTINUED]


goldenchiffon 4/8/2008 10:12:00 PM
My hair is long & over processed from monthly colorings, blow drying & using a flat iron. It has been my goal to get my hair to the length of my waist for a long time now but my hair has been so bad lately that I was actually considering chopping it all off. I have been having so many bad hair days that it has been the norm for my hair to look dry, frizzy & just plan damaged. Nothing has helped, not even my Fekkai glossing cream nor Oscar blandi's Seta cream. Now on to the good stuff -After reading the reviews, I figured I would try this product (even though in general I do not like Pantene products). It was worth a shot since it is so inexpensive. I found this miracle cream at target for $5, immediately took a shower & left it in my hair for the prescribed 5 minutes. I immediately liked the way my hair felt in the shower - very soft. When I got out, I let me hair air dry & then resumed with using my Chi flat iron. I immediately noticed how much easier it is to straighten my hair. I usually have to go over the same piece more than a few times, this time, it was one time & my strands were straight. The second thing I noticed is that the frizzies were at bay. After styling, I can actually say that my hair (dare I say) actually looks healthy. It looks like I just got back from the salon! I will be buying this product over & over again & hope it will be the key product to keep my hair looking good so that I can get to my goal of having longer hair! Very happy with this purchase. ****UPDATE: Ok, this never ever happens to me. After using this last night for the first time, Four (yes I said four) different people commented on how great my hair looked. All of them asked if I had just had it colored because it is so vibrant....this stuff is truly a miracle. I NEVER & I mean NEVER get "great hair" comments. My hair is frizzy & gross, but after using this, one of my co-workers said, "Ugh...you have such absolutely gorgeous hair, I can't believe it." THIS IS A MIRACLE PRODUCT. Thank you fellow MUA members for leading me to this! :)
6 out of 6 people found this review helpful. Was this review helpful to you? Yes No
Lip Gloss -NARS - Turkish Delight


goldenchiffon 3/28/2008 1:22:00 PM
Turkish delight is a very milky pink lip gloss that looks really fresh. While this is a gorgeous gloss, I have to reapply it every hour, sometimes sooner. I have tried everything, pairing it with a lipstick, lipliner, a different gloss and it just isn't working for me. Plus for $23, I shouldn't have to go through so many steps. The main reason this is going back to sephora is the lasting power is terrible - I will just stick to my beloved Dior- Pink Jersey.
Was this review helpful to you? Yes No
Pressed Powders -MAC - Beauty Powder - Alpha Girl


goldenchiffon 3/22/2008 8:21:00 AM
I love, love, love this powder! It is absolutely gorgeous & I was not even going to purchase it because some of the reviews here. Well I am so glad the MA encouraged me to try it! I have tan skin & this color shows up on me as a matte baby pink. It does take a little more digging into the powder to get a good color payoff but that is my only complaint. I am going back to the MAC counter to get a backup, as I know this will be one of the first to sell out.
Was this review helpful to you? Yes No
Lip Treatments -Fusion Beauty - LipFusion XL 2X Micro-Injected Collagen and HA Lip Plumping Therapy


goldenchiffon 2/26/2008 9:37:00 AM
AFTER USING LIPFUSION XL (CLICK CONTINUED TO SEE POSTED PICS)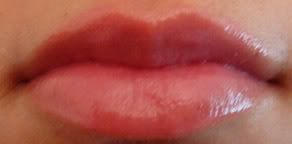 I have tried a variety of lip plumpers, most with no success. Although this product was really pricey, I bought a sample tube from eBay for $15. I put this on at night & remembered that some gals suggested drinking a lot of water for better results. I normally drink 2 liters of water a day, but forced myself to drink a third. Well this morning I was still asleep & my boyfriend said, "Wow your lips are so huge. What did you put on them?" Quite frankly I forgot I had put anything on them at all. My lips felt much fuller & when I looked in the mirror, I saw my lips but much much more plump! I think I am going to have to shell out $50 for the full tube, because I like it that much. It slightly tingles (no burning, thank god), it has a very lovely sweet mint taste to it, & my lips have never felt this moistened before. I highly recommend this, although pricey, it seems to be the only plumper that really works! Give it a try & don't forget to drink tons of water for better results!
3 out of 3 people found this review helpful. Was this review helpful to you? Yes No
Mascara -Rimmel - Extra Super Lash mascara


goldenchiffon 2/23/2008 5:14:00 PM
You get what you pay for....what was I thinking when I ran out of the house at 10:00 pm for this highly praised mascara. While it must work for some people. It was awful for me. The formula is extremely wet, which smudged all over my upper eye lid. I really wanted to love this product but I found that I had to put on literally 8 coats to get a semi-dramatic effect. It did nothing for lengthening & forget about any volume. Quite possibly the worst mascara I have ever purchased.
Was this review helpful to you? Yes No
Blush -MAC - Mineralize Skinfinish in Northern Light


goldenchiffon 9/27/2007 4:45:00 PM
I adore this skinfinish. It is right up there for me with Nars Orgasm (I probably even use this product more than orgasm). The product itself is gorgeous & on more than one occasion I've caught myself going to my makeup room just to look at it! The color is warm & reminds me so much of fall. It gives my cheeks a soft flush & if blended correctly the small glitter flecks cannot be seen. Lasting power is great & you cant beat the price for the amount of product you get! I am so thankful that I bought a back up!
Was this review helpful to you? Yes No
Eyeliner -Too Faced - Starry Eyed Liquid Eyeliner--Restraining Order


goldenchiffon 9/27/2007 4:36:00 PM
This eyeliner is exactly what I wanted MAC's oxidate glitter liner to be! This eyeliner is really hot! I love it because you can actually see the glitter, as opposed to oxidate where you have to layer it 5 times to get minimal results. One layer & it looks so sexy! It goes on really smooth & the tube is HUGE!!! I would definitely repurchase!
1 out of 1 people found this review helpful. Was this review helpful to you? Yes No
Concealers -Revlon - ColorStay Under Eye Concealer


goldenchiffon 9/27/2007 4:31:00 PM
My HG Concealer. I have used so many different concealers (most high-end) & this is by far is the best, it even beats out Make Up Forever's Lift Concealer in my opinion. The things I love is lasts all day. Seriously, I work 12 hour shifts & the coverage stays the same from day to night. It dries super fast. It is so inexpensive compared to all the other $30 concealers I have. I love this product & will be repurchasing!
Was this review helpful to you? Yes No