Eyeliner -Jordana - Fabu Liner Liquid Eyeliner Pen


Nanashimara 6/15/2012 5:15:00 PM
This liner is dirt cheap, so I can't really complain too much. It performs pretty decently. On its own, I find the felt tip too imprecise to give me a nice wing. It does not 'overwrite' itself well. That is, if you apply it then want to readjust the line, the liner begins to peel off and bunch up. I CAN get a decent line with this, it just takes a lot longer than other products I use. I've taken to using it to fill in the gaps after using my PF Eye Booster pen, especially around the inner corner, and it works pretty well for this. I'd like to mention this isn't remotely waterproof. In many ways it reminds me of the Stila All Day Waterproof Liquid liner but the product inside is not as nice.
Was this review helpful to you? Yes No
Deodorants -Unlisted Brand - Lady Speed stick, Stain Guard


Nanashimara 10/28/2011 12:06:00 AM
I LOOOOOOOVE this deodorant. Most deodorants I've tried that say they won't leave marks on black clothes lie (cough-Dove-cough-Secret). This one truly does not leave a single mark on your clothes. It has a great silky texture too. Dove moisturizing solid is more of a thick cream formula, whereas this is a really silky thin lotion texture. Feels great under my arms. I like the scent. It's cheaper than most other drugstore deodorants. Now I noticed some people say that this deodorant/antiperspirant doesn't quite do it for them. I'd like to point out that this has 10% of the active ingredient, while their other product for ladies (I think it's Invisible Dry) in it, has 15%. I haven't tried that one, but maybe that will work better for those who found this not to be strong enough. I personally use this in conjunction with Certain Dri every other night, but I often forget to apply and this still works fine for me. I believe that having less of the "staining" active ingredient is why this deodorant claims to be stain resistant. I don't really wear white. I can't comment.
Was this review helpful to you? Yes No
Hair Color -L'Oreal - HiColor High Lift Hair Color


Nanashimara 8/30/2011 2:15:00 PM
*****BEFORE/AFTER PHOTOS AT END OF POST***** I am pretty impressed with this product. It was my first time dying my hair at home (and I did it by myself). I'm pretty clumsy; it wasn't that hard. My only complaint about application is that the consistency of the hair dye is quite liquidy and can be a bit messy. I did splatter a bit all over my sink and some on the bathroom floor. The dye SMELLS so bad, but I'm sure all permanent dyes do. I chose to use Clairol 30 developer, just because it claimed to have some special soy complex... I chose the color Soft Brown. As you can see from the picture attached, it lifted my hair probably 2 levels? From a dark brown to a medium warm brown. I would not have minded if it lifted my hair another level. The color is very pretty, and considering I have hair that has turned orange in the past when highlighted at the salon, it came out well. There is a little bit of a brassy highlight in the sun, but my hair already had that. I can't say yet how fast the color fades because it has been less than a week and only one washing. I have Seborrheic Dermatitis so I have to use dandruff shampoos, including Neutrogena T/Sal and Nizoral. I'm sure that this will strip the color out of my hair over time, but what can you do? I plan to use Clairol Radiance Colorgloss demi-perm hair color over the top when the color starts to get too brassy. Selecting a color was difficult. The color swatches for hair colors usually suck. I couldn't tell which was the lightest brown offered... Soft Brown or Cool Light Brown, does anyone know? Since I wanted a warm color, and was also considering an auburn shade, I went for the Soft Brown. I might try the Soft Auburn shade next time. It looks a little lighter still. My OVERALL BIGGEST complaint is that there are no light brown shades as far as I can tell. Maybe I would have achieved a better result if I'd used a 40 developer. You could mix one of the brown shades with one of the highlight shades, but I can't be bothered. For this reason, I might use a developer with an Ion or Wella dye in an ash blonde next time, which I've seen people lift their hair to a light brown with. I started with frizzy, wavy/curly virgin hair. I don't notice that much of a difference in my hair post-dye. Perhaps it is a little bit more dry, but I expected that much. My hair still looks really shiny though! I had a few scattered greys.They were not covered at all. I can't understand how this dye has absolutely no grey coverage. Hope this helps someone! I wish I had more information on the color selections is all. PM me if you have any info on the shades. Sorry, the lighting is not the best. The 'before' is a little cooler actuality, and 'after' is quite a bit warmer than in real life, as you can see by the yellow tone to my skin.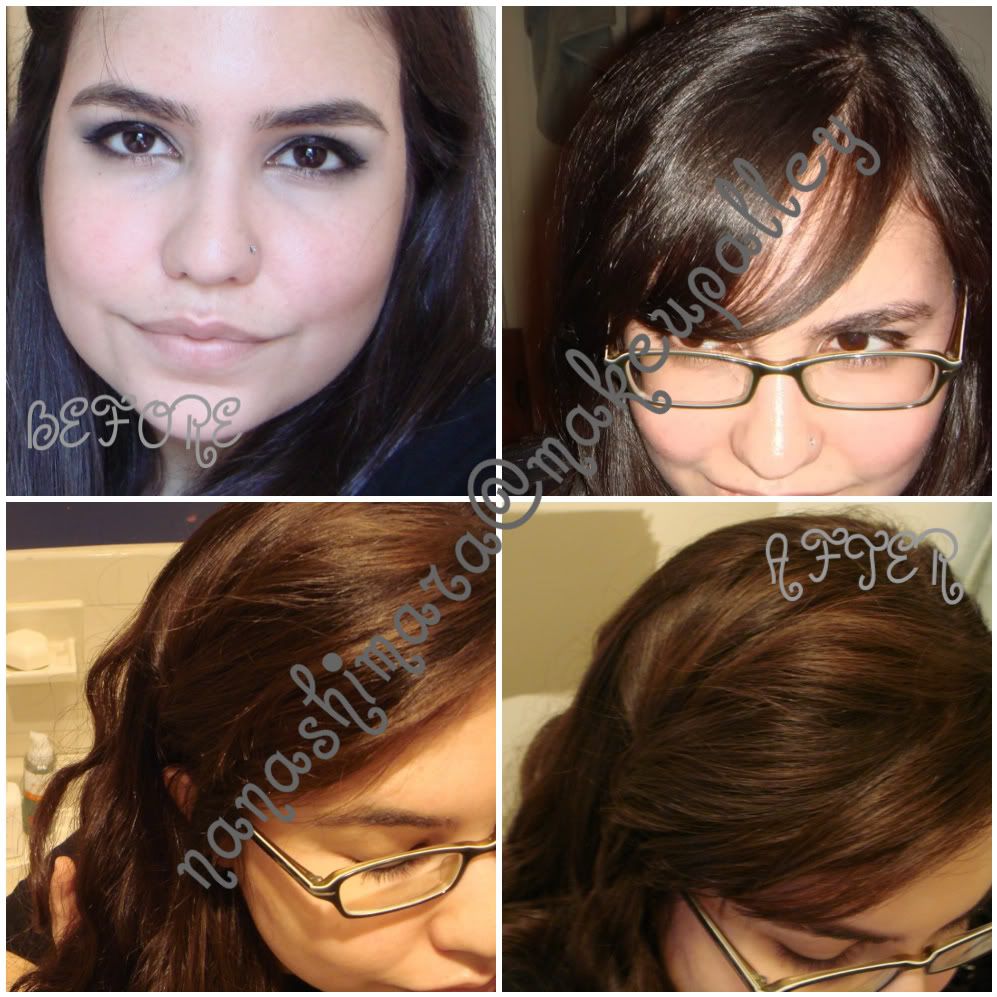 10 out of 10 people found this review helpful. Was this review helpful to you? Yes No
Palettes -Stila - Indian Summer- Charmed


Nanashimara 8/26/2011 12:20:00 PM
I've had this palette for a while now, and while I use it, I don't reach for it often. This is because, out of all my Stila eyeshadows, these have the absolute worst fallout. I end up with glittery specs under my eyes whenever I use this even if I'm quite careful. Just too much of a pain. The colors are pigmented and pretty though, so I give it a 3.5 out of 5, if I could. Not quite good enough to be a 4! I picked it up for $10 like everyone else, so not much to complain about there.
Was this review helpful to you? Yes No
Eyeliner -Physicians Formula - Eye booster eyeliner + serum


Nanashimara 4/28/2011 4:38:00 PM
**This review is for Ultra Black. I have not tried Dark Brown or Black.** For those that purchased BLACK wanting a really black eyeliner, why didn't you get ULTRA BLACK? I own Ultra Black and it is... pretty damn... black. It has a nice sheen to it that my gel liners don't really have. Overall it's an excellent liner and the brush is remarkable, allowing me to achieve a very precise wing. My favorite thing is that it does not transfer above my crease like every gel or pencil liner I've tried. If you have hooded eyelids you might know what I mean. I am also wondering if people are trying to use this liner on bare skin? If you want to get a saturated black line you need to 1) shake the container a bit 2) put some sort of eyeshadow on your eyes... it can match your skin color but the product needs SOMETHING to grasp on to. My one complaint is that this liner does not overwrite itself well and the packaging can clog up. Sometimes I have to scribble a little on the back of my hand to get it started again, or pick off some built up product. Because of the way the pen releases product when touched, this wastes valuable eyeliner! What it will do: --Give you a crisp, dark black line that lasts all day. What it won't do: --Give you a crisp dark black line on bare skin. What you need to do: --Prep your eyelid with a shadow of some sort to get maximum coverage and easy application. --Try the correct eyeliner color to suit your expectations before coming here and writing a review.
16 out of 19 people found this review helpful. Was this review helpful to you? Yes No
Makeup Brushes -MAC - #210 Precise Eye Liner (Fine Point)


Nanashimara 4/1/2011 2:04:00 PM
Definitely not my favorite liner brush. I have many and this one is too fine and too flimsy. With most of my brushes it takes 2 dips into the gel liner pot to line one eye: one for the eye and another dip for the wing. With this brush I have to dip repeatedly and the result is more splotchy and less even. Therefore the texture of the liner in some places is a bit clumpy from filling in and it has more of a tendency to flake. I thought this would be HG for doing my wing, but it's not. I only recommend this for doing precise lining on the inner corner (as in if you're going to line around your tear duct) or doing very fine detailed artistic pieces. Even then I'm not sure it will be the best choice. I prefer, and actually adore, Sephora liner brushes. I recommend the black ferrule/handle point tip liner (similar to 210) and the silver Professional angled brush.
2 out of 3 people found this review helpful. Was this review helpful to you? Yes No
Shampoo -Pantene - medium-thick hair solutions frizzy to smooth


Nanashimara 4/1/2011 2:25:00 AM
I thought nothing would ever make me touch a Pantene shampoo again. They are terrible, drying, did I mention terrible? I tried to use this one up as a hand wash and it turned my hands into a dry, scaly mess. Anyway, I bought this and the conditioner because I read in a magazine that Pantene had pioneered some special anti-frizz miracle. They lied. It's as simple as that.
Was this review helpful to you? Yes No
Moisturizers -Nivea - Creme


Nanashimara 4/1/2011 2:20:00 AM
For a while I was getting tiny itchies on my face. Nothing major, just little itching here and there... but FREQUENTLY. Then I realized that it is this product. Whenever I use it, I have to scratch my face every few minutes. This product didn't cause a severe allergic reaction, but something in it still disagrees with me. I believe that it is either the preservative used in this (I now stay away from this particular preservative): methylchloroisothiazolinone. Or it's the fragrance. Either way... not for me! Oh, also the tin blows. The lid never stays on.
1 out of 1 people found this review helpful. Was this review helpful to you? Yes No
Eyeliner -Make Up For Ever - Aqua Eyes Waterproof Eyeliner Pencil in Mat Black 0L


Nanashimara 3/26/2011 6:04:00 PM
I really hate this eyeliner. I have repurchased it twice and in other colors, and they always dry up and shrink inside the pencil before I can use it up. It's not creamy enough, and it drags and has a rubbery feel when I apply it. Just bad. Expensive too. I have 24/7 UD eyeliners from the same time I purchased this that are not dried up. They have a reinforced cap so that there won't be any little cracks which cause drying. Also plenty of DS eyeliners are far better. NO.
1 out of 1 people found this review helpful. Was this review helpful to you? Yes No
Treatments -Unlisted Brand - Acnevir


Nanashimara 3/21/2011 11:23:00 AM
If you are not familiar with homeopathic products, or were fooled by the 'active' ingredient listing on the box, here is a breakdown of what is actually in this product*: Resorcinal: .01% BHA: .001% Sulfur 1% I do not know whether sulfur is effective at 1%; most products seem to have 4-8%. The sulfur is the only hope this product has of claiming a scientific reason for it to be effective at helping acne and redness. Even so, it's expensive and you don't get much product. *information kindly provided by the company producing Acnevir.
3 out of 5 people found this review helpful. Was this review helpful to you? Yes No
Mascara -Cover Girl - Lash Blast Fusion


Nanashimara 3/17/2011 6:05:00 PM
I love love love the way this mascara makes my eyelashes look: volumized, long soft and not at all clumpy. So why the 3 star rating? Because after only a few weeks this mascara starts to make little tiny clumps on my lashes that flake off. Yuck! Because of this it's not at all economical. It could also be glossier. I'm off to try new mascaras. Will not repurchase again.
Was this review helpful to you? Yes No
Eye Shadow -Wet 'n' Wild - ColorIcon Palette in #249 Vanity [DISCONTINUED]


Nanashimara 3/6/2011 2:11:00 AM
After hating the disgustingly chalky and powdery Sand Castle palette that everyone seemed to love but me, I expected to hate this. First off, I don't know if you guys remember the packaging for Sand Castle, but it was huge, bulky and unsightly. This is a HUGE improvement. I really do love it though. The colors are very good dupes for popular MAC eyeshadows, and they are quite pigmented. Unlike other reviewers, I have not had any problems with them creasing or being hard to blend. I've used the spongetip applicator included and my own brushes. I have even tried these without a primer and they wore all day--given, it's winter and my skin is dry. These colors are warm, and I think it's the prettiest of all the 6-pan palettes. Second might be Lust, but I haven't purchased that yet. The mattes in this palette are high quality for the price and at any price. Matte eyeshadows are notoriously a difficult point in any brand, where a lot of them are hit or miss. The possible miss in this palette is the lightest matte color, but I do not have a problem using it. It's just a tad powdery... I have been reaching for this palette daily, and I highly recommend it for anyone with neutral to warm coloring. It's a great travel palette, and you won't cry if it breaks!
Was this review helpful to you? Yes No
Eyeliner -Physicians Formula - Shimmer Strips Gel Creamliner (all)


Nanashimara 3/1/2011 10:59:00 PM
This review is for the brown eyes set: The brown color is creamy and lovely. The black flakes onto my cheeks when applying and starts to crumble and crack if I do manage to get it on sufficiently. The purple is streaky and not pigmented. Also suffers from the flaking problem. I might repurchase for the brown, it's REALLY nice, but probably not. I don't use gel liner that often. I recommend the PF Eye Booster pen liner over this. It's my HG and use it daily. PF has hits and misses, but overall this brand always surprises me with quality items. I use a few of their face powders/bronzers in my every day routine as well. TLDR: Brown is a hit, black and purple are misses. I tossed those two.
4 out of 5 people found this review helpful. Was this review helpful to you? Yes No
Eye Makeup Remover -Boots - Organic Face Nourishing Eye Make up Remover


Nanashimara 3/1/2011 10:44:00 PM
This is the best eye make up remover I've ever used. I slather a bit on my lashes and eye makeup, rub a tiny bit, add water and massage a bit more... When I'm done I have silky smooth lashes and soft, touchable skin. This does everything. This has similar results to using an oil or product like Albolene, but this emulsifies and washes the makeup away. It is also the texture of Vaseline so it is easy to travel and apply. I highly recommend this product.
1 out of 1 people found this review helpful. Was this review helpful to you? Yes No
Lotions/ Creams -Eucerin - Aquaphor Healing Ointment


Nanashimara 3/1/2011 5:18:00 AM
I prefer Vaseline. Aquaphor doesn't moisturize my lips as well, has a stickier, thicker texture. Sits on my skin in a thick, shiny layer. It's great that it works so well for other people. There seems to be very little reason that this product would heal much better than Vaseline. From what I understand, their healing benefit comes from sealing out the bad and keeping in the good, essentially. The inactive ingredients are moisturizers/skin conditioners (glycerin, lanolin alcohol, panthenol, etc), and one ingredient known for its anti-inflammatory benefits (bisabolol). Bisabolol is in lots of products, so definitely do not go running out to the store to buy Aquaphor for this magical ingredient. However, contrary to what I expected, when I apply Aquaphor on large portions of my face, sometimes my face becomes itchy and irritated. I also do not find it soothes my frequent hives and sensitive, SD skin or heals dry skin from winter weather and retinoid treatment. Bisabolol is either not effective for me, or not effective in this concentration. The ingredients are more occlusive than Vaseline's (ceresin is a wax and a possible cause of irritation). And lastly, lanolin alcohol can cause acne for some. The hype tells me that this should be my miracle product, but the results are just not there. It's just an OK product to me.
1 out of 1 people found this review helpful. Was this review helpful to you? Yes No