Masks -Unlisted Brand - Aspirin Mask


Mouray 8/16/2009 3:16:00 PM
I have combination skin and prone to the odd break out once in a while but I like to take chances on whatever sounds like a good idea... Provided there are decent reviews to back it up. So I crushed up my mask and applied it as required. After the whole aplication was complete and after I had patted my face dry I wanna say that my skin did feel smooth and soft but to be honest my skin didn't feel any different than if I had crushed up eggshells and applied it the same way. Typically after treating your skin it's going to feel relativilly soft regardless (don't have spell check - pardon my spelling boo boos) anyhow the reason I had to give 1 stiplick (smile) is because of what this mask did to my skin the week following the treatment... I suffered dry, cracked, chapping skin on 97% of my face. I have been nicknamed "moisturizer girl" as I'm a moisturizer junkie, well every moisture product i had on hand that I used to reduce the problem created by the asprin mask didn't help an ounce!!! In fact what happened to my face as a result of this experiment was in a way slightly painfull. I can typically tollerate mostly anything I apply to my face but this my fellow MUA'ers was a big no no! I advise those of you willing to give this a go just to test only a small area of your face before going full throttle. It appears to work wonders for some gals but obviously not for others. My review is not intended to by any means to say the idea sucks, it's simply just an awareness shout-out to those of you uncertain about trying this. Good luck I say and be carefull.
4 out of 6 people found this review helpful. Was this review helpful to you? Yes No
Foundations -SKII - Air Touch Foundation [DISCONTINUED]


Mouray 2/4/2007 10:49:00 AM
I saw this in a magazine months ago then forgot about it. Meanwhile I was contemplating buying the $300 airbrush machine which comes with two bottles of makeup on ebay. Well I came across the SKII again in a more recent magazine and figured I'd go to Saks and try it out before I bid on the airbrush machine. The girl there asked me to close my eyes while she tried it on me ... I swear I had no idea she was applying it because the application was so micro fine. All I felt on my skin was a light puff of air and BAM my skin was flawless. Now, I'm a firm believer that the lights at the makeup counters make us all look like WOW!! so I wanted to hold off on a true verdict until I tried it in my own bathroom at home. Verdicts in .... It's amazing. I'm beaming when I wear this on my face because it's completely new to me to have such a flawless complexion. I would recommend to anyone looking for a beautiful flawless complexion to go to Saks and try it out.
2 out of 3 people found this review helpful. Was this review helpful to you? Yes No
Primer/ Corrector -Smashbox - Photo Finish Foundation Primer - Bronze [DISCONTINUED]


Mouray 5/14/2006 3:46:00 PM
Thank god for MUA 'cause this is a product I would have never even approached at the makeup counter. It looks very dark in the bottle, It's thick liquid is just as dark on the finger tips, but when applied ... POOF ... this instantly blends softly in to the skin with the most incredible results.
I'm a MAC C4 and would have thought this bronze was way too dark for me, but I LOVE IT!! Once applied it spreads like butter (without the greasy feel). Doesn't cake or blotch. What's amazing is once applied (finger tip style) the tips of my fingers feel so soft, smooth and bare without any trace of the product left on them. My face goes from pale blotchy to, I just did 20 min on the fake n bake ... not! If I had to choose three words to describe this bronzer, they'd be ... Satin - Flawless - Fluffy air. This rates a 9 outta 10 ... will buy again.
4 out of 4 people found this review helpful. Was this review helpful to you? Yes No
Self Tanners -Sally Hansen - Airbrush Sun - Especially for Body


Mouray 1/11/2006 4:55:00 PM
This is my best kept secret in tanning. For around $9.99 at most drugstores and select supermarkets the Sally Hansen Airbrush body tan spray is hands down the best. I've purchased this a total of three times so far.
I've tried the spray tanning booths at salons and results can be unpredictable with unwanted darker areas around the ankles, knees, etc. Well, this can of spray delivers a much better result and for a fraction of the cost.
For the perfect tan first exfoliate in the shower then completely dry yourself off before spraying. Hold the can at least 6 to 12 inches away from your skin while spraying. (The spray is consistent so no need to pump and spray) Cover the areas you are spraying evenly and once your done there's no need to rub.
The spray dries very quickly (60 seconds) and the scent is sort of perfumed which makes it tolerable. Avoid wearing anything for the first five minutes to ensure it's dry. Your fabulous tan will begin to develop within the next few hours and last at least seven days.
For whatever it's worth I use this on my face too despite the fact it's "Especially for body" and it looks amazing.
The contents are enriched with retinol and vitamins thus leaves you skin feeling pampered plus your also doing you body some good when applying it.
One shade works for every skin tone!
14 out of 14 people found this review helpful. Was this review helpful to you? Yes No
Blush -BeneFit Cosmetics - Benetint


Mouray 1/11/2006 4:18:00 PM
Didn't love this. It seemed to lack in staying power not too mention slightly unnatural looking. The only good suggestion I have for this is to apply it to arms or legs which does seem to work. In my opinion not so great for the face!
Was this review helpful to you? Yes No
Pressed Powders -MAC - Pressed Powder


Mouray 1/11/2006 4:11:00 PM
MAC the miracle powder. I have this in two shades one darker than the other. The darker for the evening. I always wear a little foundation or concealer and finish with this powder for a flawless look.
I don't understand the sponge concept though because apart from hygienic reasons I find that the application looks a little caked compared to using this powder with a large face brush which is how I prefer to apply it.
I've bought this over and over and will continue to do so. Luv it!
Was this review helpful to you? Yes No
Blush -NARS - Orgasm Blush


Mouray 1/11/2006 4:00:00 PM
I love NARS cosmetics but as for this blush I found that it was a little too unnatural for my fair to medium skin tone. It illuminates the color orange too much.
This is definitely one blush shade that you should try at the Mall (go outside for natural light test) and then truly decide if it's for you before taking it home.
Was this review helpful to you? Yes No
Skincare - Face -MAC - Blot Film


Mouray 1/11/2006 3:52:00 PM
Undeniably a must have item for us ladies that suffer from a little to a lot of shine. I used to apply powder over my makeup when my skin began to grease up but that was before I knew about the blot sheets.
I can't speak for anyone else but I get a certain feeling of Ahhhhhh when I use these. These literally rid the face of all or any trace/s of shine. I'm hooked!
Was this review helpful to you? Yes No
Scrubs -St. Ives - Apricot Scrub


Mouray 1/11/2006 3:30:00 PM
This is a harsh abrasive scrub capable of doing more harm than good. I purchased this once and after giving it a try on my face, decided it would work better on the body so now I just use it in the shower as a body scrub.
Was this review helpful to you? Yes No
Fragrances -Estee Lauder - Pleasures


Mouray 1/10/2006 7:44:00 PM
It's strange how the scent of one fragrance can differ from one person to the next. I know of someone who wears this and it doesn't compliment her at all yet I love how it smells on me .... weird!
The scent is so fresh and (weird word for a perfume) pleasant, perfect for day or night. Next time your at the mall take a minute and swing by the Estee Lauder counter and try a spritz for yourself. I get a ton of compliments when I wear this so it's not just my opinion.
Was this review helpful to you? Yes No
Mascara -Maybelline - Illegal Lengths Mascara


Mouray 1/10/2006 7:28:00 PM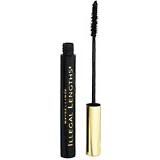 I'm not so much a fan of drugstore cosmetics but this mascara keeps me coming back for more. I've been using Illegal lengths for a few years now and find that it's the best waterproof mascara for wet conditions such as water sports, swimming, tears, and getting caught in the rain.
I wouldn't say it's the best for adding extra length (although it does provide some length) but you never have to deal with dreaded clumps when applying this.
Tip: For extra length apply any mascara primer first!
For a lot less than $10.00 this is in my opinion the best waterproof mascara out there.
3 out of 3 people found this review helpful. Was this review helpful to you? Yes No
Scrubs -Olay - Regenerist Microdermabrasion and Peel Kit


Mouray 1/6/2006 10:34:00 AM
I was another victim of curiosity with this product. Now I must first admit that I have also tried various other products that work well but unfortunately don't continue to work the days following.
I've tried the kit twice so far and I'm very happy with the results. I tried it for the first time two days ago ... applied the gritty citrus paste, massaged with my fingertips for one minute (avoid the lips, it tastes nasty) then the clear gel on over the first application which somehow dissolves the grittiness and leaves you with a semi soft foam like face wash. No warming sensation what-so-ever.
At this point I couldn't wait to rinse and dry my face to feel the difference. Let me tell ya ... it was worth the wait my face felt like a sculpture soooo smooth and not a trace of a dry patch anywhere.
This product advises that you use it twice a week on non-consecutive days. Well before using it two days later my skin was still as smooth and soft as day one.
I can definitely see how this kit can change the appearance of your skin over time and now that I don't suffer from dry patches anymore, I'm looking forward to seeing blemish marks disappear.
Twice used so far and already and for a total of $27.99 my verdict is Olay's Microdermabrasion and peel is well worth it. CC
Update: I've used this four times (2 weeks) already and I'm in awe with the results. My skin is evening out and my pores have shrunk and as for breakouts no more than usual. When I began using this I felt no warming sensation but now I notice that when I apply the peel activator my face tends to sting a little, Just like to old saying ... "If it burns you, know it's working"
I'm excited to continue using this and even though both containers seem small they certainly seem like they will last.
2 out of 2 people found this review helpful. Was this review helpful to you? Yes No
Styling Products -Sebastian - Shaper Hairspray


Mouray 12/27/2005 1:39:00 PM
I've just repurchased this and although it's a little pricier (around $15.00) than most others, it's certainly worth it. I have very long hair and no matter how much of this I spray to style I can still run my fingers through my hair without messing up my style. It's not sticky what so ever and won't leaver your hair looking dry and brittle. This also has a pleasant faint scent, not overbearing. Great for up-do's too. This hairspray's a keeper.
1 out of 1 people found this review helpful. Was this review helpful to you? Yes No
Brows -Revlon - Brow Fantasy


Mouray 12/27/2005 1:17:00 PM
The dark blonde color matches my brows to a T! I'm overall very impressed with this product and it's ability to stay on all day. The only thing that bothers me about this is that the pencil end is too short thus doesn't last a long time ... never the less, I will repurchase!
Was this review helpful to you? Yes No
Mascara -Almay - Almay intense i-color brown topaz


Mouray 11/9/2005 10:28:00 AM
WOW! Just purchased this three days ago and so far can't wait to use is it everyday. The packaging mentions that this shade will bring out the color in your eyes ... low and behold that's just what it does. My eyes are hazel so black or brownish black mascara usually looks too heavy on me, but what this does when applied is actually capture the browns in the eye and the end result is amazing. Pricing is perfect I paid only $4.99 I think?
I'm sure many of you will agree with me when I say it's sometimes impossible to find a good mascara wand that really extends the lashes? Well, this is the miracle grow of all wands despite all the hype on fabulash and what have you!!! It really does take lashes to new heights. I have one of those mascaras with the primer on one end so what I do now is use the primer before using Almay intense and my lashes explode .... Love it!
Was this review helpful to you? Yes No