Lipstick -Shiseido - Shimmering Rouge RS308 Iron Maiden


Disco_Dancing 2/27/2011 8:21:00 AM
*EDIT: The pictures above are mine. The lipstick is slightly - by about one shade - darker and brighter than shown.* (For reference: I am super-pale with neutral undertones and surface redness, oily, acne-prone, and have dark brown hair and darker brown eyes. Lips are decently pigmented and prone to dryness.) I bought this lipstick on a whim while picking up one of the eyeshadow trios in "Boudoir". Apparently, this shade is the one that the model in the current Shiseido ad campaign wears, but I didn't realize that when I bought it. Though the same shade, the lipstick pulls much more purple on the model than it does on me. This color is a medium-value mauve with a definite rose tone to it. It's glossy when I swatch it, but only gives off a bit of sheen when on my lips, and the light sometimes catches little blue and silver sparkles. The sparkles don't really look glittery to me, though; they just smooth out the lines in my lips and make them appear fuller. This color is definitely cool-toned, but not nearly as purple as it looks in the tube. The formula is fantastic. I have experienced no drying - this lipstick layers easily over a light coat of balm, which is how I have been wearing it, but I think that I could get away with no balm - and get about three or four hours of wear out of it. The color does not settle into lines, slip around, or migrate outside of my lipline. If I eat or drink, the lipstick does tend to rub off, and therein lies my only complaint: drinking while wearing the Shimmering Rouge results in bright pigment staining the outside of my lips, and no pigment left on the inside. Not attractive. If I know that I will be eating or drinking, I make sure to bring a mirror along with me for touch-ups. I have worn this color both sheer (with a light touch, a lipbrush, and a thicker coat of balm) and more opaque (directly from the tube, about two coats), and it looks smooth and beautiful either way. I give this lipstick a "five" for its beautiful, flattering color and fantastic formula. I intend to buy more from the range.
6 out of 6 people found this review helpful. Was this review helpful to you? Yes No
Gels/Soaps -Kiss My Face - Olive Oil and Honey Soap


Disco_Dancing 5/28/2010 4:19:00 PM
I've struggled with my skin for about six years, now - since I was twelve - and, while I've never suffered from blackheads or cystic acne, I constantly have raised, red pimples, tiny bumps across my forehead, and whiteheads. My pores are enormous, I've got redness and discoloration like nobody's business, and I'm essentially one big oil slick. In short, my skin sucks. For whatever reason, my mother picked this soap up for me about two weeks ago - I think I'd been complaining about all the chemicals in my other cleanser? I can't quite remember - and I was extremely skeptical (really? a soap?), but willing to give it ago. I'd just suffered a terrible breakout, after all, and there was no way this could make my skin look worse than that. Anyway, I sliced it in half so I wouldn't destroy a foot if I accidentally dropped it, and gave it a go. I love this soap. Whoa. It makes my entire bathroom smell faintly... not herbal, exactly, but organic. Natural. It's a fresh, pretty scent, that's actually delicate once it fades a bit. The soap itself has been non-drying - this is wonderful; despite my overactive oil glands, my skin is actually prone to dryness - and hasn't broken me out at all. In fact, my skin looks decidedly better than it has in a few years. I still have pimples, yes, but I don't think any of them are new, and my discoloration/redness have calmed down. Also, my skin feels incredibely soft. This is no miracle cure, but I definitely prefer it to my old, chemical-based cleansers. To recap: No fresh breakouts. Not so red. Little less oily. Much smoother. I'm in shock.
2 out of 2 people found this review helpful. Was this review helpful to you? Yes No
Lip Gloss -Revlon - Super Lustrous Lipgloss- Cherries in the Glow [DISCONTINUED]


Disco_Dancing 9/14/2008 3:28:00 PM
(Reference: NC10/15, dark brown eyes, dirty blonde hair.)
I like this gloss. I was looking for a sheer red that didn't tend too far towards orange, and that's what this gloss gave me. Now, my lips are pretty pigmented - pic in profile, search "pigmented" - so I don't know how this gloss would show up on someone with less color to their lips... But, on me, it shows up as a redder MLBB. It's nicely shiny and makes my lips appear really soft and smooth, and the lasting power is decent enough.
The smell of the product is, admittedly, a little gross - it's like plastic. But, luckily, that's only in the tube. Once it gets onto my lips, I smell nothing.
Actually, the only thing I really take issue with is that the packaging is butt-ugly. I mean, come on, surely Revlon can do better? A clear rectangle with a black top?
Still, I'd definitely buy this again.
Was this review helpful to you? Yes No
Concealers -Lancome - Flash Retouche ] [DISCONTINUED]


Disco_Dancing 8/30/2008 5:13:00 PM
This. Is. God. SERIOUSLY.
I am about an NC20, but my undereye circles are dark enough for an NC8000. And when I don't sleep, they get worse. So I've spent quite a bit of time - and money - searching for that perfect undereye concealer, one that doesn't sink into fine lines, look cakey, chalky, or unnatural, brightens up the undereye area, and actually conceals.
Up until just a few days ago, I thought I'd made such a product up; I didn't think it could possibly really exist.
Never have I been so happy to be wrong! I got Teinte 01, and it is AMAZING! I've tried the Dior version, the YSL version, and more pot-type concealers than you can shake a stick at, and none of them have come even close to this! Flash Retouche goes on so light and smooth I can't even feel it. It vanishes my dark circles almost completely - no longer shall I be called the Zombie Girl! - and brightens them up beautifully. But what makes it truly spectacular is that it's so natural-looking, people can't even tell that I have it on. (But they can certainly tell when I don't, haha.)
The pen-shaped dispenser with the attached brush is so convenient, and so easy to just toss into my purse or makeup bag. It's kinda pretty, too.
The *only* flaw I have found with this concealer is the click dispenser. Too many clicks, and you end up with too much product, and no way to put it back. (But that's easy enough to deal with; click once, see if you've got enough, click again, repeat. Crazy, uncontrollable clicking is BAD.)
It's such a tiny flaw, though, that I don't even care. FIVE STARS, and I will definitely rebuy!
13 out of 15 people found this review helpful. Was this review helpful to you? Yes No
Lipstick -Urban Decay - Weapon of Love Lipstick in Trainwreck


Disco_Dancing 8/29/2008 7:37:00 PM
**UPDATE** I have recently re-discovered this lipstick (yes, I did just let it sit there in my stash, unused), and feel obligated to edit my review accordingly. I have taken to wearing my lipsticks full-coverage lately. When applied like that - directly from the tube - this lipstick is actually really drying; if I try to apply it over balm, it goes on streaky, and I can't apply balm on top of the lipstick or the color will migrate to the edges of my lip line. The taste is horrendous either way.
I still absolutely, 100% adore the color, though, thus I would still re-buy. However, if you cannot handle dry lipstick, or simply dislike the packaging, I think that the Georgio Armani 2010 fall line has a similar-looking lipstick (minus the blue-ish shimmer) in a much nicer formula. (Reference: NC20, dark brown eyes, dirty blonde hair.)
Let me just say, before I start the review proper, that the packaging of these new UD lipsticks is absolutely gorgeous! It's what sucked me into trying the line. Each lipstick comes housed in a large and heavy purple metal tube with a little gunmetal dagger sticking out the top - it seems very sturdy to me, by the way, so I think it's unlikely it would break - and a clear plastic cover doodled on with delicate purple designs.
Okay, now that that's out of my system...
The color I got, Trainwreck, is a deep berry/fuchsia color, creamy and with the slightest hint of shimmer. Because it goes on slightly sheer (although I've had no issue building that sheerness up to full coverage), I don't think it's too over-the-top for daywear at all. Plus, it looks amazing against my complexion! Really brightens my whole face up. I think it would look great against darker skintones, too.
I also really like the smell. It's described as "creme caramel", and that seems pretty accurate to me. It's pretty strong in the tube, but it fades off of my lips quickly enough... So it's pleasant, but doesn't get annoying like some perfumed lipsticks do.
It lasted for about six hours without a lipliner, by the way, and that was with some eating and drinking.
At $22, this lipstick costs a pretty penny... But I would definitely buy it again. For me, it's an HG fuchsia - and I didn't even know there was such a thing. ;)
Pics >>
(Applied full; it's much brighter and darker in real life.)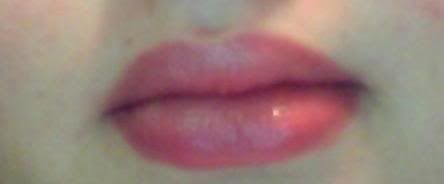 (Applied sheer; again, brighter and darker in real life.)
7 out of 7 people found this review helpful. Was this review helpful to you? Yes No
Eye Shadow -Urban Decay - Deluxe Shadow Box


Disco_Dancing 8/25/2008 8:51:00 PM
This palette is... The greatest palette I have ever bought. Ever. EVER.
Inside its tacky-but-sturdy purple velvet packaging reside the nine most beautiful eyeshadows in the entire world. Bright, shimmery golden yellow (Honey); cool, shimmery taupey brown (Underground); soft, shimmery shell pink (Scratch); shimmering orange champagne (Shag); glowing blue violet (Ransom); bright turquoise blue (Peace); glowing pinkish-purple (Fishnet); shimmering grass green (Graffiti); and velvety-matte black with a hint of sparkle (Zero).
They're all wonderfully pigmented and highly blendable - with Peace the most pigmented, and Fishnet the least (although Fishnet is still super-pigmented!). With a little help from UDPP, they last all day on my super-oily lids with no creasing and no fading at all.
Not only this, but they're so easy to layer and mix to get all new shades! Ransom + Fishnet = bright violet. Graffiti + Honey = acid green. Ransom + Peace = cobalt blue. Peace + Graffiti = shimmering teal. Honey + Underground = antiqued gold. Anything + Zero = darker, richer color. The combinations are amazing, and nearly endless - the ones listed are just my favorites.
I will definitely use up this palette, because I reach for it at least twice a week. Therefore, I will definitely repurchase. =)
4 out of 5 people found this review helpful. Was this review helpful to you? Yes No
Lip Gloss -Bonne Bell - Vanilla Lip Smacker


Disco_Dancing 8/23/2008 9:24:00 PM
This stuff has reached HG status for me! I have extremely easily-chapped lips - they peel almost every day, too - and no lip balms I have tried before have helped me at all. In fact, most have made my lips even drier and scalier.
But not this one! Vanilla Lip Smacker has a very light, almost unnoticeable vanilla scent, and comes packed in an adorable tube. It goes on completely colorless and super-smooth, with just a hint of gloss. Every time I slip on a coat, my lips become smoother, plumper, softer, and all-around more moisturized. I still have to use an intensely moisturizing balm at night, but now I have a convenient balm to carry around in my pocket, too.
I only paid $1.44 for this, too!
Was this review helpful to you? Yes No
Blush -Good Skin - Naturally Cheeky powder blush


Disco_Dancing 8/22/2008 9:10:00 PM
(Reference: NC20, dirty-blonde hair, dark brown eyes.)
I am... amazed at the quality of the Kohls makeup I have tried. I really did not expect much out of it - I've gotten everything on clearance; this blush only cost me $6 - but it has proven to be at least as good as the high end stuff I usually use.
I bought this blush in the color "Tuscan Sun". In the pan, it's a deep and bright pinkish red, and a bit scary. On my cheeks, it's wonderfully subtle and really brightens up my face. It has no shimmer.
The blush is very silky and smooth, easy to blend. It hasn't given me any breakout issues and stays put almost all day. I would recommend grabbing one of these before Kohls cancels them completely!
Was this review helpful to you? Yes No
Lips -L'Oreal - HIP Shine Struck Liquid Lipcolor -- Tainted (760)


Disco_Dancing 8/18/2008 11:36:00 PM
Reference: NC20, dark brown eyes, dirty blonde hair, pigmented lips. I bought "Tainted" at a BOGOF sale at Rite Aid for $6, along with the shimmery tangerine shade Precarious.
"Tainted" is a deep berry/plum color, completely free of shimmer. It goes on almost completely opaque, and the exact color that it appears in the tube. It's less glossy than a gloss, but more glossy than a lipstick. IMO, this is a wonderful balance. It has a very creamy consistency, and though I would recommend wearing a lip liner, it didn't seem to creep off of my lips. It also had pretty great staying power; I got four hours with eating and drinking.
"Tainted" can also be applied very sparingly and blended over a balm for a beautiful berry-wine stain. When I did this, it lasted all day.
It smells sort of like caramel or a birthday cake to me (although I have a cold right now so this could be WAY off). The scent didn't seem to be overpowering, and I actually found it quite pleasant.
All in all, I found "Tainted" to be a wonderfully vampy color that can also be applied sheerly for daytime wear. Pic>>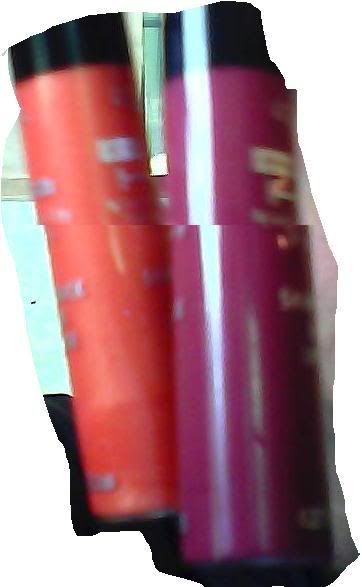 (It's a bit darker in real life.)
Was this review helpful to you? Yes No
Lip Gloss -Good Skin - Megabalm Tinted Lipgloss


Disco_Dancing 8/12/2008 8:17:00 PM
Why don't these get more love? They're amazing!
I scored these balms in three colors because they were on clearance; Pink Sherbet, Purple Rein and Coral Nectar. In the tubes, they are very bright. Pink Sherbet is a creamy reddish hot pink, Purple Rein is a deep eggplant, and Coral Nectar is a buttery-looking melon.
On my pigmented lips, they're beyond gorgeous! Pink Sherbet is still very bright, but is also very wearable. Purple Rein sheers out wonderfully and makes me look like I've been eating popsicles; it turns a pretty berry color that isn't too cool for my warm skintone. Coral Nectar brightens up my whole face and gives my lips a nice, playful hint of tangerine.
All are shiny, but not over-the-top shiny, and not too sticky. None have any shimmer or glitter. So far, I've been able to get several hours' wear without reappying, and when they do wear off, they just fade to a soft glow - they don't get that nasty look some lip products do. They're wonderfully moisturizing and have kept my lips perfectly smooth.
If your Kohls still has any of these, snatch 'em up! You won't regret it!
Was this review helpful to you? Yes No
Eye Shadow -Lancome - Color Design Eyeshadow in "Fog"


Disco_Dancing 7/28/2008 8:08:00 PM
For reference: I am MAC NW20, Lancome Buff 2 (Teinte Idole Ultra), with black/brown eyes and dirty-blonde hair.
In the pan, this color isn't anything special. It's a sort of dull periwinkle-gray, with perhaps the slightest hint of lavender duochrome - sort of like the sky when it's going to rain, you know?
It goes on a bit sheer, and not all that noticeable. But that is not to say that it isn't pretty! My eyelids had just the slightest tinge of barely-there blueish-gray, and it really made them pop without looking like I was wearing makeup. Now there's a thing of beauty!
I also really like to wear this when I get pink eye, not enough sleep, or my allergies act up; a quick wash all over the lids really tones down the red and makes my eyes look pretty and more refreshed.
I got this in an old GWP palette, but I will certainly repurchase this shadow if and when I run out.
1 out of 1 people found this review helpful. Was this review helpful to you? Yes No
Eye Shadow -Lancome - Color Design Off The Rack


Disco_Dancing 7/28/2008 8:02:00 PM
Where has this been all my life?!
I found this in an old GWP palette (the one with Off the Rack, The New Black, Fog, and Drape in it) and thought that it looked pretty in the pan; a shimmery, medium/light-value warm pink with a slightly silver shift. So I put it on.
I was BLOWN AWAY! This color looks so beautiful on my NW20, Lancome Buff 2 (Teinte Idole Ultra) skin! It's sort of My Lids But Better, and it doesn't look like I have allergies at all (a problem pink eyeshadows rarely give me, but still). I feel soft and feminine while I wear this, and the shimmer really widens and wakes up my dark brown eyes.
My only complaint is lasting power. Unless used over my Urban Decay Primer Potion, it fades in a few hours.
Heck yes, I will buy a new one when I run out!
Was this review helpful to you? Yes No
Eye Shadow -Lancome - Maquiriche Eyeshadow in Plumage


Disco_Dancing 7/28/2008 7:56:00 PM
This is a beautiful, beautiful color - dark/medium shimmery mauve - but I just can't pull it off. I'm a MAC NW20, Lancome Buff 2 (in Teinte Idole Ultra) with dark brown eyes and dirty blonde hair, and this color just looks disgusting on me. I look like I've been socked in the eye every time I put it on, and I always end up wiping it off in disgust.
That said, it IS a gorgeous-quality eyeshadow. It's well-pigmented and blends easily, and doesn't fade off too quickly. It just looks gross on my skin tone.
Was this review helpful to you? Yes No
Eye Shadow -Lancome - Color Design - The New Black


Disco_Dancing 7/28/2008 7:48:00 PM
Well, I can't really comment on the packaging, because I got mine in a GWP palette (the way I get all of my Lancome shadows - they're good quality, but when I think eyeshadow, I think Sephora, not department store).
That aside, this is a really lovely shadow. In the pan, it's a dense black that sparkles so enticingly with millions of flecks of the TINIEST, most beautiful silvery/greenish glitter I have ever seen.
On the lids, the black is much less dense - more of a sheer charcoal - although it can be built up without too much trouble. I find it a bit hard to blend as well. But the glitter! It becomes subtle but flashy at the same time; people won't know it's glitter unless they get right up in your face and examine your eyeshadow, but they'll definitely notice a "wow" factor. (At least, in my experience they have.)
My favorite way to use this, though, is wet, as a softly-smudged liner with pretty sparkle.
Over Urban Decay Primer Potion, I've gotten about twelve hours of wear on the lids, and I've yet to wear my makeup long enough to see if it ever fades as a liner. It's also great for shading.
If I ever run out of this, which I probably will, I'd buy a new one.
I would also recommend this to people who like the idea of Urban Decay's Oil Slick shadow, but dislike how chunky and messy the glitter is.
1 out of 1 people found this review helpful. Was this review helpful to you? Yes No
Lipstick -Clinique - Colour Surge Bare Brilliance - Blushing Coral


Disco_Dancing 7/4/2008 8:55:00 PM
Reference: NW15/20, warm peach undertones, dark dirty-blonde hair, brown/black eyes.
I hate the Clinique lipstick tubes... I just do. They're hideous, in my opinion.
That aside, this lipstick is HG for me! The color - a warm peachy-pink shot through with gold shimmer - is absolutely gorgeous on my complexion. It's sheer enough that it doesn't look like an obnoxious, over-the-top grandma coral, but not so sheer that I'd consider it a MLBB shade. It's just classy, beautiful and chic, and is great when I don't want nude lips or lips that draw too much attention to themselves. It's fairly moisturizing, too, so it doesn't ever dry out my lips.
I reach for this color at least three times a week; in the summer, at least five.
At $14, the price is pretty great, too.
I've already gone through a tube, and plan to rebuy a third as soon as I think this one will run out.
My only gripes are the total lack of staying power and the hideous silver tube.
Was this review helpful to you? Yes No