Eye Shadow -Maybelline - Expert Wear Single - Antique Jade


Nekura 8/4/2007 1:30:00 AM
The only true thing that convinced me to chance this was due to the new displays for Expert Wear e/s and their new formulas had testers. Although the testers weren't of this shade, they swatched very pigmented and to the color of the pan which was a surprise. Old Maybelline eyeshadows... I remember back as a teen were quite horrible, chalky, and had no color pay off. Even back in my beginner's mindset with makeup, after one of those eyeshadows I never bought one again for years. They were that horrible. I honestly wouldn't even have looked at this if there wasn't a tester near it. Antique Jade looks more like a pearl/shimmery Emerald in the pan and that is -exactly- what it applies as. Highly pigmented with a pearl frost in a nice deep emerald green. A very beautiful color to be found in a d/s. I'm surprised really. I'd buy other colors however these new formulated shadows aren't offer in a large variety of colors (yet?) that I would want to try out but they're worth the try. They're nothing like the old Maybelline eyeshadows! just make sure whatever you're buying says it's a new formula or you might be stuck with the old useless chalky stuff. I'm surprised no one has reviewed this color yet! It's one of my favorite greens now. The packaging is standard... Not of my preference but I get a lot of product so no complaints. I hope it's not an LE because this is really what anyone who's looking for an Emerald color would want! It's great for green smokey eyes. Edit 8/29: I took a few pics (with swatches) and never got the chance to update till tonight!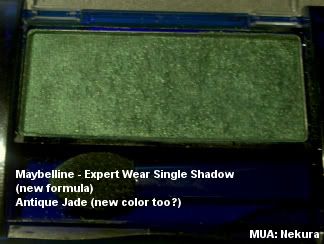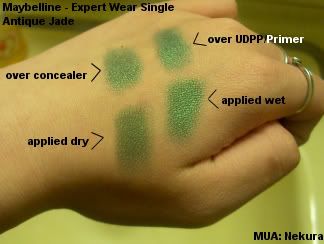 7 out of 7 people found this review helpful. Was this review helpful to you? Yes No
Eye Shadow -Revlon - Illuminance Creme Shadow


Nekura 8/4/2007 12:10:00 AM
Favorites: Wild Orchids, Copper Sunset (LE) These are offered in a huge variety of colors. I get them for $2 at a cosmetic outlet instead of retail. However like all creme shadows they require a good primer inorder to prevent creasing. I haven't found any creme shadow that works well on it's own I have oily asian lids so I need a primer always. These are great as bases for eyeshadows similar to the color or not just for a nice depth of colors. A lot of them seem a bit frosty/shimmery for my personal taste alone as an e/s but for 4 base colors @ $2 I'll keep buying more of these since they work and adhere pretty well. A lot of the colors help create metallic effects with powder shadows over them Dabbing the colors on with a brush works better than trying to smudge it on forcefully. I don't use my fingers because of 1) nails 2) I don't want the cremes to become filthy 3) waste of product/ I've had some of these for about a year now and I don't see them disappearing from the pot unless I've used it alot. I like the slim packaging because it's easy to store in the bottom of a train case... I generally don't need applicators or mirrors in my e/s so the packaging is fine and sleek! They're smoother than a lot of creme shadows I've tried that come in a pot with a lot of pigment too and not have my lids feel heavy or glued down :)
Was this review helpful to you? Yes No
Lip Gloss -Revlon - Brush on Shine Strawberry Electric


Nekura 8/3/2007 8:50:00 PM
I found these on sale years later in a cosmetic outlet in NYC for 99 cents :) there were samples and surprisingly this stuff is still very "fresh". I didn't know this line was so old until I read reviews on MUA! I'm surprised they have such a long lifespand! I collected all I found because the colors look fun and I'm not a bright lip fan so 99 cents was a good price to experiment, besides all the ones I saw added up together would normally buy me 1. The scent is exactly the same as Revlon Super Lustrous l/g (hard to describe but kind of powdery yet too subtle to notice) with a nice non-sticky texture. Brush applicator which is great. Color is buildable however Strawberry Electric is one of the most vibrant colors from what I've bought. Very pretty and bold hot pink night color with a blue sheen :) I assume if anyone find these now in 2007... it'll be as cheap as what I paid for or maybe less! However this stuff seems to last for such a long time, it's a great gloss for anyone who normally stays away from bright lips but wants to try it out without hurting the wallet and getting some unique + quality shades.
Was this review helpful to you? Yes No
Mascara -Cover Girl - Volume Exact [DISCONTINUED]


Nekura 8/1/2007 9:47:00 PM
Edit: Volume Exact provides minor volume/length compared to Lash Exact. It takes a few coats for things to be noticable. I realize my lashes are softer with VE than LE but VE has a tendency to smudge easier if you really rub your eyes... BUT this does mean it washes off easier. I realize that this mascara is actually amazing with a fibrewig mascara base only because the brush seperates with no funky clumping and with the oomph of a mascara base you really do get a wonderful faux lash volume. I recommend this if you have a "smudge issue" especially if you're Asian. I have fairly long lashes for an Asian. I don't have a "single lid/monolid" either so my lashes don't have a problem with poking me in the eye... They just generally never hold a curl and because of that I get smudged circles within a few hours. I also have bad allergies which means watery eyes so that adds on to the crazy smudging problem... Often attempting to get the perfect curl + lashes means too many layers making me have scary spider lashes or it just does NOTHING for me. So far VE/LE are the only mascaras that actually have a curl holding formula for me. I can actually curl my lashes without a curler before the mascara dries, I push my lashes back a bit for a natural curl.. surprisingly that works. That might sound a bit strange but typically if I curl my lashes with a curler and then apply mascara, the curling was pointless... and if I curl after I apply mascara there's a big risk of "bent" or unnatural lashes... (yes being Asian is a pain when it comes to eye makeup). I'm sure this isn't the most AMAZING product to provide volume, but it sure does it's job (especially with a base on) and keeps you smudge free with some lash shape! Also you don't notice it's "volume" qualities without a base on.. I tried LE with a base and it's drastically lacking if you use such a method.
Was this review helpful to you? Yes No
Foundations -Cover Girl - Ultimate Finish


Nekura 8/1/2007 9:33:00 PM
I've used ultimate finish liquid powder on and off for years. It's quite handy since it comes in a compact (though it's not too much product since it's in a compact but a decent amout for $8). I have combination skin, more oily than dry but nevertheless still combination. I keep trying to find something better however this old line of CG makeup is still the one i always turn to. It's not a heavy coverage if its what you're looking for... I'm not one to like caking on this on my face but this does it's job while covering imperfections and not having one look too fake. I typically apply the foundation with a brush at home and then carry the compact around for touchups. I use 410 classic ivory. By far one of the few foundations found in a d/s that actually match my skin tone without me having it custom match or paying a lot for it. Will purchase again.
Was this review helpful to you? Yes No
Crème -Cover Girl - Cover Girl TruBlend Whipped Foundation


Nekura 8/1/2007 9:25:00 PM
I have oily skin so this foundation is pretty useless during the summer or in any heat.. however when I'm not sweating myself to death it has medium converage compared. I bought a 415 instead of a 410 because I wanted something light for the summer and I'll be a bit darker. Unfortunately the change of shades actually just seemed to be change of undertones. While I'm somewhere inbetween, 415 natural ivory is really kind of overly pink for my tastes. This foundation would probably be great for someone with dry skin, its not as light as it says. It's kind of a bit too oily and comes off easily. Also brush application is best since it comes in a weird jar. I still like CG foundations for their price and decent quality but I won't be purchasing this again... I still want to try another mousse foundation just not from CG. Also, I don't know if it's just me but I think this foundation smells a bit weird. Not rancid or anything but it does have a funny scent I'm not too found of (it's not too noticable once on the face but still there regardless).
Was this review helpful to you? Yes No
Lip Gloss -NYX - Sheer Gloss


Nekura 8/1/2007 9:11:00 PM
I'm reviewing the new sheer glosses in the sleek plastic see-through tubes with the flower print ont them. I got this in the color "hot" which is a nice popsicle/watermelon color with minor shimmer. This gloss smells different from a lot of the other NYX glosses I own and reminds me of flowers/fruits. At first I wasn't too found of it but I don't mind it now. It's not a foul smell, it was just new for me to get used to... It's really flowery. It comes in a slim squeeze tube with a brush tip applicator which I like far more than the typical slant plastic tips. The color is indeed sheer but they are tinted. I have pink/mauve lips naturally and this gives me a nice color for the summer. Infact the whole gloss seems like a very "summer" item. Very nice, a good variety in the NYX gloss selection! definitely worth a try especially if sheer colors is your thing :) It's tacky in texture but not overly sticky and has a good staying power. My only complaint is that the name of the colors aren't printed on the tube and just on the white barcode sticker which I rip off... so if I buy too many of these I won't know whats what. EDIT 06/08/09: NYX has improved these glosses drastically. Now I also own Shangri-La and Earth which are 2 lovely none-shimmer neutral glosses. The scent has now changed from that odd floral (which was never bothersome but a bit strange) to a fruity candy scent. Formula wise, these glosses are a lot more light-weight and slick. The brush is softer now too. The packaging is the same but the new ones have a black band over the top. Also I'd like to mention, the shade "Hot" which I've had for 2 years now still smells good as new.
2 out of 2 people found this review helpful. Was this review helpful to you? Yes No
Eye Shadow -NYX - Ultra Pearl Mania- Purple Pearl


Nekura 7/31/2007 12:14:00 AM
All the UPM products are nice. I just wish this wasn't called purple. I was looking forward to something pearly but much like the regular shade of purple NYX offers. This is a lot lighter and more lavendar. Nevertheless very nice and something I like pairing with darker colors. The bottle packaging to these are pretty bad but I'm pretty sure that's well known now ;) however ignoring the sucky packaging the stuff inside is great.
Was this review helpful to you? Yes No
Eye Shadow -NYX - Purple


Nekura 7/31/2007 12:07:00 AM
This was one of my first purple e/s and definitely starting some sort of obsession. It's a vibrant purple with a blue sheen.. There's a minor variation from the single pot and trio with the purple in it. However not a lot of people notice this except me. The trio purple is a lot more blue while the single one is very pinkish purple with a faint blue sheen. Compare these two with Milani's Enchantment and it's a nice scale of purples w/ blue sheens. Ironically all 3 are my favorite shadows to pick up. Definitely worth it, and this is the e/s that created my NYX craze.
Was this review helpful to you? Yes No
Eye Shadow -Milani - Mint Sugar Loose Powder


Nekura 7/31/2007 12:02:00 AM
I bought this because it was on clearance so it cost me $2.50. While I've known for a while by eye this is the exact same packaging as the Bourjois loose powders which N.Y.C. later released some things in the packaging... I had no idea how these really worked with my vague nostalgia of playing around with Bourjois ones in Sephora. The packaging is okay, it's cute. The brush is alright, it's not the best but it's not horrific either. I'd love to transfer this product elsewhere because despite how cute it is, it's pretty bulky and odd in shape... though there's A LOT in here so I guess I'll settle with that. The color in the container vs the name is decieving. It says mint, yet it looks lime but when applied its a weird mixture of both... a pale yet vibrant shimmery chartreuse. I have several things similar to this by other brands in a similar color. These are more of glimmer powders than actual eyeshadows. So the pigmentation isn't a lot but it provides a good amount of glam and glimmer to your eyes. I find the best way to use this is to layer it over another shadow for that sort of glam look. Otherwise on it's own it's not going to be as lime as it looks in the jar. 4 lippies for the versatility + price. One off for the weird packaging and how I MUST use that brush it comes with because there's not much of a choice otherwise.
Was this review helpful to you? Yes No
Eye Shadow -Milani - Java Bean (18)


Nekura 7/30/2007 11:52:00 PM
I bought this on clearance too. I don't really know whats going on with Milani anymore since a good chunk of that rack was on clearance in CVS... however I don't like browns. I picked this up because it was $1.50 and even if I don't like browns I need some neutrals for days where I don't want to wear much color. I figured it wouldn't hurt and it wasn't a matte either which is something I don't need along with my other many matte brown shadows I'll end up using as a brow filler. I LOVE JAVA BEAN. It's a metallic bronzey deep brown color with a very smooth texture and highly pigmented. It's quite beautiful and a brown shade but unique at the same time. I hope they don't discontinue this one =(
Was this review helpful to you? Yes No
Eye Shadow -Jordana - Eye Shadow Pencil - Pitch Black 01


Nekura 7/30/2007 8:46:00 PM
(Swatch provided) Jordana Eye Shadow Pencils are a great alternative and bargain compared to most pencil shadows that can be found. These are a good substitute for MAC shadesticks if you're a fan of those as well. These are jumbo pencils so it does need to be sharpened however I find this the best way to avoid the pigment stick from breaking unlike those in a twist-up form. Pitch Black is what the name states. It's a matte creme black pencil that is good for a base for a lot of dark/smokey looks. I like to use these pencils for a base rather than just shadow. I know Jordana pencils have been compared to MAC shadesticks but either one I'd need to use a primer due to my oily almond lids... however a black base does bring out MATTE black eyeshadow to avoid that chalky look or shimmery black eyeshadow without being a glitter monster. It's also a good color to use to add a different dimension and change looks of other colors... Typically I suppose no one would pick this dark color up that often however it's a versatile thing to use. I've used a black creme base from Ben Nye for years which is just as good but it requires a brush (this means more time to apply) while this is a pencil so it makes things pretty easy & fast. The only other jumbo eyeshadow pencil I've seen in a creme/matte form in black is NYX Jumbo Eyepencil (these are great too) it's just these retail for $4 and Jordana sells for $1. Jordana doesn't offer these in many colors but the colors they do have are worth a try for a buck! Here's a swatch: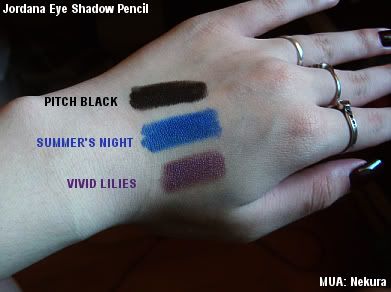 5 out of 5 people found this review helpful. Was this review helpful to you? Yes No
Eye Shadow -Jordana - Eye Shadow Pencil- Vivid Lilies


Nekura 7/30/2007 8:36:00 PM
If you like MAC shadesticks and eye shadow pencils, you'd love these. I'm sad these aren't easy to find nor offered in many colors however they make a great base. I know some people use these without primers however I have really oily lids so any sort of creme base I'll need to use with a primer however this is a great CHEAP purple/mauve eyeshadow stick that can be used as a base color without coughing up a lot of money. It's a jumbo pencil and needs to be sharpened.. I actually prefer this because the pigment stick isn't prone to breaking this way. These are similar to NYX jumbo pencils but retail for under $2. Sadly these are so underrated because they're a bit hard to find. Here's a swatch: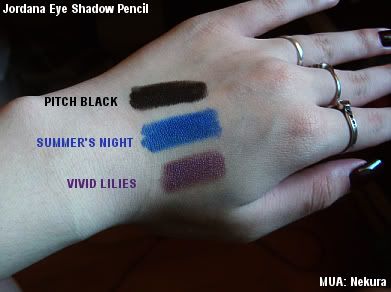 2 out of 2 people found this review helpful. Was this review helpful to you? Yes No
Eye Shadow -Jordana - Eye Shadow- Wine


Nekura 7/30/2007 8:33:00 PM
If you like smokey looks, berry/wine/red colors then this is a definite must have. I still can't believe this color (and Moss/deep olive green) only costs a dollar! it's a wine color with a slight shimmer that's good for nights out =) I'd definitely repurchase. Unlike many reds I've had this one isn't a full matte or too frost like so it's pretty unique + dark too.
1 out of 1 people found this review helpful. Was this review helpful to you? Yes No
Eye Shadow -Jordana - Eye Shadow- Icy Heather


Nekura 7/30/2007 8:26:00 PM
I bought this without looking at the name. I don't generally see a lot of mauve shadows especially for $1, usually I see some sort of pastel type of lilac or pink. Recently I've been purchasing Jordana shadows on random whims since I live by a dollar store and they carry some (small collection but regardless) I had nothing to lose. It has the same great texture/slight shimmer + frost like most of the Jordana shadows and this is a versatile color for toned down looks to a something that can be useful in a smokey eye. Would repurchase if I ever finish the pan like all other Jordana shadows.
Was this review helpful to you? Yes No