Average Rating

3.6

/5


62

% would buy again


78

reviews





Where to buy
Review by Mimsy
Mimsy on 9/15/2009 4:45:00 PM More reviews by Mimsy
I purchased the ELF Mineral Lipstick in Natural Nymph directly from the ELF website. Usually, the Mineral Lipsticks are $5 each but there was a 75% off coupon code which I took advantage of, so I got a few lipsticks for only $1.25 each.
I would describe Natural Nymph as a nude, skin color shade with peachy pink tones. I'm really horrible at describing colors, so I've taken some photos and swatches which I think do a much better job of communicating Natural Nymph's color. (click the "continued" link at the end of my review to view pics/swatches. Lip swatches included.)

Natural Nymph is, I believe, the lightest shade in ELF's mineral lipstick range. Here it is in comparison to the other ELF lipsticks I own:

I'm a fair-to-light skinned Asian gal (Chinese descent) with yellow undertones and fairly un-pigmented lips, and Natural Nymph shows up as a very pale pinky beige on me, with no shimmer whatsoever. The lipstick is pale and has a matte finish but it doesn't cause that very dry and cakey effect on the lips that some matte lipsticks, or concealers-as-lip-erasers, can. Natural Nymph goes on sheer but its color can be layered and built up. I really like the Natural Nymph shade, which isn't too dramatically different from my natural lip color; it tones down my lip color and gives me a "pale lip" look but without making my lips look dead or really chapped.

I've come across reviews on the internet comparing Natural Nymph to concealer. I don't think it looks like concealer on my lips, at least none that I've ever used. Here's Natural Nymph alongside stick concealers in my stash:
As you can see, Natural Nymph is much more pink than the other concealers which are more yellow, more white, or more peachy orange.
But if you think Natural Nymph might be too pale for you, here it is in comparison to the pinker and second lightest shade, Runway Pink (or Runaway Pink as it's named on the actual l/s label):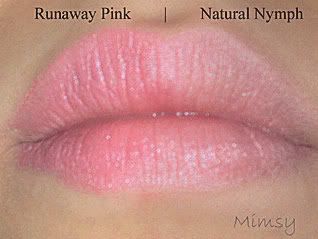 And in case you're wondering what real concealer actually looks like on my lips, I've taken a photo of my lips with N.Y.C. Cover Stick in Light on top of them. Warning: it's not pretty. Sorry about the mess. I just slapped it on.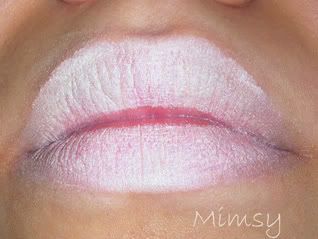 You can see how deathly white and pale it looks, and how it makes my lips look so much drier with no shine whatsoever. This is what I call super matte! In comparison Natural Nymph is not such a drastic, dry looking, flat matte.
In my opinion, the best part of these lipsticks is their texture, which I find very smooth and reminiscent of lip balm. Of the drugstore lipsticks I've tried, I think the ELF mineral lipsticks are most similar to the Cover Girl TruShine lipsticks in terms of texture (not finish -- TruShines are very shiny/glossy). However, in my opinion, the ELF lipsticks are much better than the TruShines because they don't dry out my lips when I use them. The TruShines have great texture and some nice shades but I have dry/sensitive skin and I've noticed that whenever I use the TruShines, my lips start developing dry, bumpy patches which is why I can't use the TruShines on consecutive days or very often. Fortunately, this doesn't happen to me with the ELF lipsticks.
Would I repurchase this lipstick? Yes, I really like the ELF lipsticks and find myself reaching for them quite often. I also love the fact that these lipsticks don't have any discernible scent or taste/flavor.
Click "continued" to view pictures and swatches.
19 out of 19 people found this review helpful. Did you? Yes No