Average Rating

4.2

/5


77

% would buy again


219

reviews





Where to buy
Review by wombat
wombat on 3/26/2008 11:51:00 PM More reviews by wombat
***Picture contained in this review, press 'continued' to view**** This is not yet released in Western markets I believe, it is an Asia-wide release for March 2008 as part of the 'face architect' series. The creme version was a winter release and this is a summer foundation, I suspect it will replace the water-in-fluid foundation.
This review attempts to outline the color code systems first. I will update my review after I receive this foundation shortly.
Please click continued to view the color chart on the bottom. Basically the colors on the left indicates the most pink base, towards the right indicates the beige/yellow base, while colors on the bottom indicates darker and further towards the top equates to brighter/lighter colors.
This color system works for all shu uemura foundations.
Say, for example, all foundation codes have 3 digits, 1st digit indicates undertone (pink/neutral/yellow), 2nd digit is how dark it is, 3rd digit always invariably ends in a 4 which doesn't have color code meanings.
So, shade of 364 would mean 3= pink base, 6 = medium or light neutral. Shade 774 would mean, 7 = neutral tending yellow, 7 = light Shade 974 would mean, same lightness as 774 but yellower.
You can see from the color chart there's no straight neutral, I believe 7xx shades are quite neutral shades already since I dont detect obviously yellowness on application.
For myself I purchase the #784 which is a new color, possibly the lightest shu uemura foundation shade I have seen lately. Reviews I read in Asian magazines indicated some shades are even lighter than it's comparable smoothing water-in-fluid foundation by a smidget. (e.g. users of #774 said the architect one is lighter than the same color in smoothing water-in-fluid version).
There are 9 colors available in the Asia market, sometimes some shades maybe asia exclusive while there maybe new shades for western markets. The 9 colors available are on the bottom pic (extracted from Shu uemura taiwan website), I would use the color chart to pick the undertones though given somehow all the colors look about the same.
For reference, I'm usually Shu Uemura #774 for the smoothing water in fluid foundation, I'm fair neutral, MAC NC20, Dior#200 or lighter, Armani LSF4, , OC10 for Shiseido Maquillage foundations and Albion Chiffon foundation in OC10, MUFE face & body in No.2.
Shu uemura concealer color codes- the 3YR, 5YR and 7YR, 9YR codes on the color chart indicates the corresponding concealer shade to your skintone. So 3YR would be most pink/red based while 9YR is most yellow based. Codes starting with 5 and 7 are most popular I find as it's tending towards neutral. Hope this helps!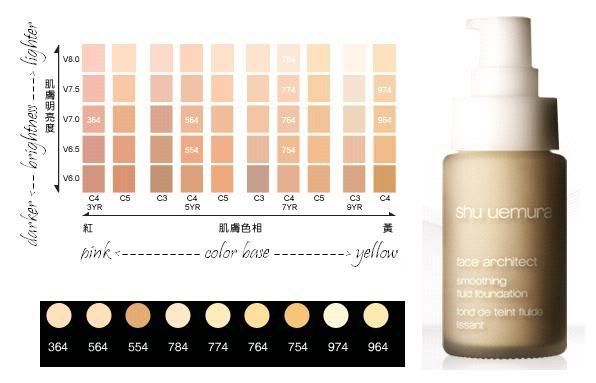 103 out of 103 people found this review helpful. Did you? Yes No
Read 219 reviews of Face Architect Smoothing Fluid Foundation ] [DISCONTINUED]