RP/ NOTD Pretty & Polished Hemi-Sphere *pic heavy*++
I never do reposts on here. Ever since a certain someone posted her manis 3 times a day, despite being warned for shilling, it wound me up so much that I never wanted to. I love this so much though and want to share with the peeps in another timzeone.

Super opaque, if this hadn't been a mini I could have easily managed 1 coat. As a mini I struggle a bit with application and this was tough to clean up, as it is quite blackened; it came out a lot darker than the bottle. I originally used AE The Shield over it, but it went oddly matt near the tips,so I covered it in GCS. Have managed to trash the tips of my thumb and right pinkie though and I have a slight bald patch on my right thumb; none of which are in the pics. Typically there is sun today, if I'd known I'd have picked a holo. This is a gorgeous flecky, vampy shimmering green. LOVE. It also doesn't look black indoors, which is a bonus. Indoors it looks a bit like Emerald Sparkle. These pics are pretty accurate, it's not exactly a duochrome, but the shimmer seems to shift slightly from olive to bright green

On another note entirely, I really want comparisons of the holiday Zoyas with Massini Slammin' Red and Purple Medallion. Have a feeling they are close in colour but the Massini's are more blingy. Adore my Massini's, those two are the most stunning pedi colours ever.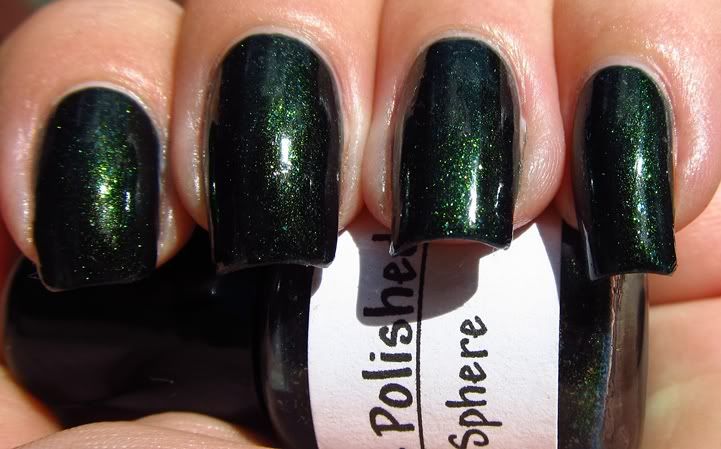 Crappy photos taken under my ereader cover's LED light. I think they show a bit more detail possibly





Thanks for looking!

message by hotmetalchicky
more messages